To sit in the correct position for meditation requires some specific furniture.
A chair that provides a suitable posture to protect your back and knees.
If you want to meditate for hours at a time to reach deep states of meditation, you do not want to do so uncomfortably.
Sitting in an incorrect position can cause you some noticeable discomfort and pain.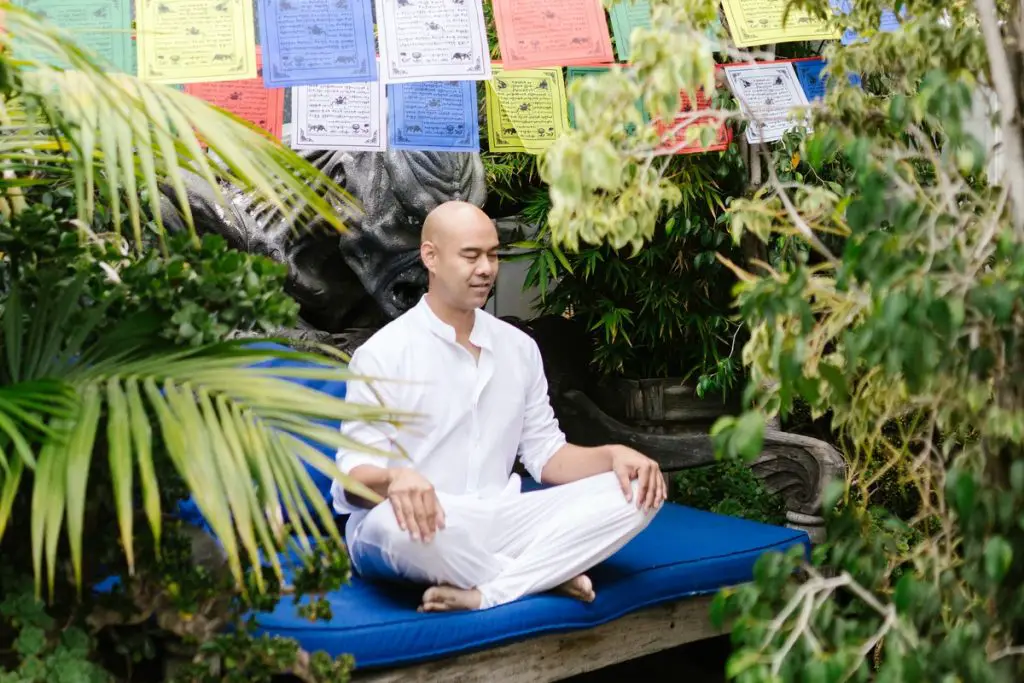 While trying to meditate that can be hugely distracting when you really need to be paying attention.
The best meditative practices will be wasted if you cannot sit properly.
Physical sitting is merely the starting point, you need to let your breathing and body sit too.
Finding the best floor chair is good practice to help you position yourself correctly.
Sitting in it should be comfortable without being overbearing.
The best floor chair will be present yet discreet so you can be attentive.
Few floor chairs are built as well as the Alexia floor chair.
From the sloped sitting area and the ergonomic cushion, the careful design supports you to achieve the correct posture.
Achieving the ideal 'S' position should be straightforward and would be easily achieved with this floor chair which we liked in our testing.
You should also enjoy knowing that your lower back, ischium, knees, instep, and feet are all supported.
Though the floor chair does come at a hefty price, it is set to last.
A metal skeleton and your choice of fabric, leather, and vegan leather mean a durable construction too.
With a perfect posture from an effortlessly comfortable seat, you can easily find your zen.
Pros
Ergonomic Cushion – Designed to support your lower back, knees, instep, ischium, and feet in the easy seated pose
Metal Skeleton – Hand-crafted with a metal skeleton for exemplary support
Excellent Back Support – This is one of the leading chairs for back support so ideal for seniors
Sloped Sitting Area – Achieve the S shape for an ideal posture
Color Options – If you want to have your meditation room with a particular vibe or color scheme then choose from a range of different colored fabrics, leathers, and vegan leathers
Cons
Large Price Tag – This excellent design does come at a cost
Also available at:
If you want a floor chair for meditation and a few other pastimes then consider the bonVIVO Easy II Padded Floor Chair.
With adjustable back support to 180 degrees, you can use this to find your zen position or pack it up for a games night or an outdoor picnic.
The floor chair is easily folded which also makes for great storage, which we enjoyed in our experience of this product.
At only seven pounds with a handle, you can take this wherever you want or simply pack it away for your next meditation.
The foam chair is comfortable and a cover protector makes it easy to clean too.
A minimal design also aids its versatility as it can look inconspicuous in many places.
Keep it in your favorite place for meditation or even take it with you outdoors, it will look great and give you comfortable support.
Pros
Adjustable Back Support – Change the angle to 180 degrees
Foldable – Simple storage and you can take the floor chair with you wherever you go
Easy To Clean – A cover protector should protect your seat from stains after a quick wipe
Minimal Design – The floor chair will not look out of place whether in your home or outdoors with friends and family
Cons
Lack of Sturdiness – Some users have noted that other floor chairs can be sturdier
Also available at:
If you want a floor chair that has been specially designed for a retreat, the Friends of Meditation Extra Large Relaxing Meditation and Yoga Chair may be the one.
Built specifically for extended periods of long meditation, you know it is going to be comfortable.
The chair comes with detachable supports so you have the choice depending on which posture you are aiming for.
Though it does weigh close to 12 pounds, there is a complimentary bag for easy transportation which we liked in our testing.
If you are going to go for an extended meditation then it is comforting to know that the covers can be easily washed.
Simply unzip them and give them a clean, ready to be used again.
Pros
Removable Cotton Cover – For prolonged meditation, being able to wash the covers is useful
Detachable Supports – Both the back support and Zafu are detachable
Complimentary Bag – Ideal for transport to a meditation or yoga class
Bold Colors – The floor chair comes in Black, Navy Blue, Maroon, Brown, and Purple
Cons
Heavy – Though the chair does come with a bag, it weighs a sizable 12 pounds
Also available at:
Some floor chairs simply look comfortable before you have even experienced them.
They exude style and just beg to be sat on, which can easily be said of the Gaiam Rattan floor chair.
A tall back is excellent for ergonomic support while the cotton cushion is specifically designed for cross-legged sitting.
The gorgeous design of this floor chair means you could leave it in the backyard and it will still look good to give the area a touch of style.
Even if you spill any liquid on it, the cushion cover is removable and can be machine washed which we liked in our testing.
Enjoy sitting for longer in exquisite comfort as the chair is even roomy enough for the lotus position.
Pros
Roomy – Ideal space for anyone who wants to try to meditate in the lotus position
Beautiful Design – This floor chair looks great indoors and also in the sunshine
Luxuriously Comfortable – The tall back and cotton cushion is built for comfort
Washable Covers – The cushion cover is removable and also machine washable
Cons
Large Price Tag – Though you could simply use the chair as a fashionable outside seat, the floor chair does come highly priced
Also available at:
Finding optimum comfort may be a case of finding the right padding for your floor chair.
Soft recycled cotton is used in the WAYTRIM 5-Position Indoor Adjustable Floor Chair which proves very comfortable indeed.
Ideal for meditation and pretty much any seated activity as the material also has suitable resilience.
The floor chair is renowned for back support, specifically on the lumbar.
As it is foldable you can also carry it with you to a retreat or even a social event which we liked in our testing.
With a removable suede cover, this is also a floor chair that is easily maintained.
An ideal choice for a floor chair you know you will be getting a lot of use out of.
Pros
Soft Recycled Cotton Padding – For super comfortable padding with built-in resilience
Ergonomic Design – The floor chair can be adjusted into five different positions
Foldable – Store it in your closet or under your desk for when you need it
Easy Maintenance – The suede cover comes with a zip and is removable for cleaning
Cons
Unsuitable For Large Persons – Some users have noted that the floor chair is not ideal for a large person
Buyers' Guide
Meditation is easier done from an elevated place, not just in the mind but in the body too.
The best floor chairs are designed for long meditation periods and unmatched comfort as well as balance.
You should reach your chi with a floor chair that comes with a design that will support you without you worrying about the price tag.
Versatility is also important as you may want to get full use out of your floor chair.
That could mean a handle and foldable functionality for easy portability.
It can also mean a variety of lockable seated positions, to the extent that it can fall back 180 degrees.
Then again, there are floor chairs that simply come with a cushion and reliable support.
Other floor chairs are simply made as they support the body in all the right places so there is no need for any altering.
If you want to get more for your money then choose one that looks great but is not out of place.
Ideal indoors or outdoors for a social event where you know you will be seated for a few hours.
This could be for a lazy afternoon reading a book to yourself or the odd games night with friends.
Finding a floor chair that you know you will be using extensively is ideal for getting the best value.
Back Support
If you are to sit for prolonged periods then back support is essential to help you relax, focus properly then meditate effortlessly.
That should mean no slouching but the right support going all the way up to your body.
The back support is a vital component for seniors too as sitting in even a slightly incorrect position can be unbearably painful.
Height is also important as some chairs may only be suitable for an average height which would not be ideal for tall people.
You may prefer a floor chair with various lockable positions and some come with as many as fifteen for precise support.
An additional backrest can also be figured in for lower back support.
You should be able to breathe easily without being concerned about any aches or muscle strains.
Once you find the correct back support, your posture should follow as should your focus with less fidgeting trying to find the right spot.
For the best back support, not only is the position critical but also the padding.
Too thin and you may be fidgeting for the right position, too thick and you could fall into it without really being focused and attentive.
If the padding is made from recycled cotton that might be good for the environment but can compress over time.
However, memory foam can bounce back to provide the same support over and over again.
Price
You may have a budget in mind for your floor chair.
Certainly, the more expensive models tend to be those with an exquisite ergonomic design.
However, if you want versatility and value, you can still get that in a floor chair.
The cheaper models may not be as durable which is largely due to the cheap fabric yet they should still help you find the right posture.
Even a secondhand chair or an antique can be in good condition with a formidable design that would still last for years.
As you go into a smaller budget you likely have to compromise between comfort and design.
If that is the case then choose comfort over all else as it is the more sensible decision.
The floor chair is there to help you meditate, not simply to look good.
Material
A cover that is designed to be sat on for long periods should be machine washable.
While hygiene may be far from your mind during meditation, it is good for peace of mind if you know that spillages can be easily removed.
A lot of floor chairs come with zippered cushion covers that can be taken off and put into the wash.
However, some floor chairs are made from material that can only be spot washed which may prove burdensome if you want to keep it in great condition.
Stain-resistant material is also well worth seeking out as you may be prone to spillages but only a towel is needed to wipe away any liquid.
A material such as polyurethane is ideal for preventing stains from occurring in the first place.
The material also goes some way to determining the floor chair's durability but also its comfort.
If the material does not feel good against your skin you may find yourself fidgeting instead of focusing.
Design
The best floor chair will have taken into account a variety of seated positions.
Ideal for the lotus position and roomy enough to sit comfortably cross-legged.
If you want to try the savasana pose at the end of practice then you should find a floor chair with degrees of support that can go completely flat.
Some floor chairs are specially designed for meditation and little else.
While they may look great for your meditation room, unless you are practicing relaxation techniques regularly you might not be getting the best value.
There is also the aesthetic aspect of the design to consider.
A modern design can be suitable for a floor chair yet also look great for any other activity wherever you put it.
Ideal out in the backyard to soak in some sunshine or indoors while reading a book.
Unfortunately, some floor chairs can be made from materials such as linen which can weaken if exposed to direct sunlight.
Quality materials are not only for design but also durability so get a floor chair that you know will last.
A steel frame can also really help for durability.
Not only will you be confident that you are getting adequate back support but that it will remain in place for years to come.
The color is also essential in the design if you want the floor chair to form part of your decor.
A lot of manufacturers have decided to design their floor chairs in a variety of colors.
You may even find a range of colors in a range of materials such as fabric, leather, and vegan leather.
If the floor chair is not visually appealing then you may not look forward to using it.
However, if you can find a design that works for you that is versatile enough to use in a variety of settings then you can find good value.
Portability
A lot of floor chairs are designed to be portable.
That means a design that is foldable and even comes with a carry handle to bring it with you.
You may even get a complimentary bag to transport your floor chair.
A chair that folds completely flat and can even fit into a suitcase or bag means you can easily take it wherever you travel.
If you want a truly portable floor chair, it should also be lightweight.
Frequently Asked Questions
Get your last-minute questions answered here!
Why Do You Need A Floor Chair?
Transcendental meditation is best achieved while sitting on the ground.
This is because it brings the mediator closer to the Earth.
While we may not be able to sit on the ground, a floor chair can almost bring you there.
The design of a floor chair is to allow you to feel comfortable while meditating for a long period.
These floor chairs are ideal to sit cross-legged and to help beginners find the lotus position.
They should also provide back support to keep your spine straight to allow you to focus.
Are Kneeling Chairs Adequate For Meditation?
You do not have to be seated to focus well enough for meditation.
Finding a comfortable position can be about balance and for many who practice meditation, their sense of zen can be achieved while sitting or kneeling.
Finding the right posture for meditation can be an element of picking the right chair, whether that be a floor chair or a kneeling chair.
Perhaps a floor chair that you can sit or kneel on.