Whilst the British know a thing or two about tea, us Americans can still appreciate its calmness after a hectic day at work, with the kids – insert busy few hours here – and find that the aroma can bring a sense of pleasure.
Even though we are likely to be throwing back the cups of coffee from morning until mid-afternoon, it is always nice to have specialized tea ready for the evening. There is no point in drinking something caffeinated to keep you awake (and buzzing) all night. 
No, thank you.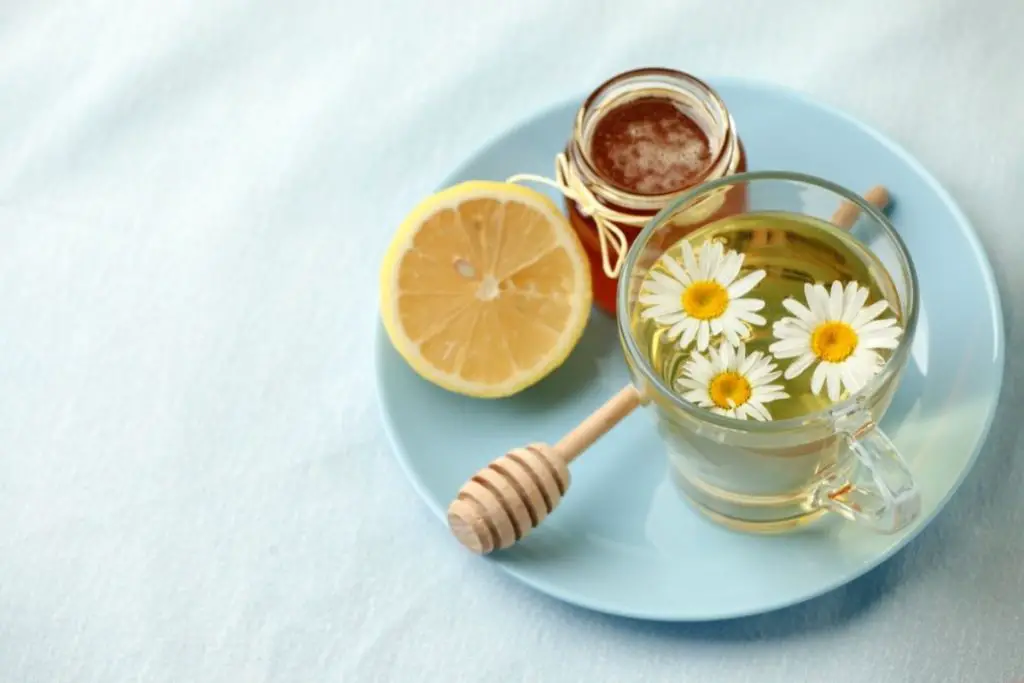 Chamomile is a great choice for those who want to feel relaxed and would prefer something caffeine-free. It is the preferred option to drink before bed due to its sleepy benefits. 
Whilst the beverage is not everyone's cup of tea, some of us might only just be delving into the tasty world of the chamomile tea leaves.
If that is you, then you have come to the right place. Looking at the tea and knowing what it is flavor-wise can be difficult to understand.
Fortunately for you, we have done the hard work for you so you do not have to do any of the searching.
We have also included a useful buyer's guide so you can take a look at the key areas when buying tea. So, make yourself cosy with a 'cuppa', and read on. 
Clipper are known for their delicious tea in the UK, but luckily for us, we can also purchase the tea bags in the United States too. 
Their eco-friendly unbleached tea bags are encased within individual wrappers to keep the tea from going stale, and instead are able to keep the tea fresh so every cup of Clipper is tasty.
The Snore & Peace tea bags are specifically suited to those who are looking to have a hot drink before bed that promotes sleep. It includes lemon balm, lavender, and of course, chamomile. 
Once the tea had been brewed for around 5 minutes, the flavor was at its optimum. Whilst chamomile was a central flavor, there were strong hints of lavender with a very subtle sweet lemon undertone. 
If you do not like the flavor of lemon, then do not be put off by this Clipper tea. It is so subtle that it seems to be there to marry the flavors together. 
Other ingredients like fennel seed and spearmint are included, but they are background flavors that give it a more rounded taste over all.
If ethically sourced products are important to you, then this organic fairtrade tea has to be your new go-to. Human rights and making the world a fairer place are their mission. 
Pros
Ethically sourced – organic and fairtrade tea
Sleepy tea – includes lavender for a sleepy time boost
Unbleached tea bags – healthier and individually wrapped
Cons
Not just chamomile – if you want straight up chamomile, then this is not it
Just like with the Clipper tea, FGO are conscious about the planet around us and the health of consumers with their eco-conscious tea bags.
Each tea bag is made from Abaca hemp fiber paper. There are no strings attached to the tea bags either. This means there are no adhesives, dyes, chlorine bleach or glue, making it toxic-free and suitable for everyone. 
The organic chamomile is from Egypt and is said to be a premium ingredient that is then placed into foil-lined kraft bags once it arrives in California. 
After steeping the tea bag in a cup for around 3 minutes, it was time to remove it. Because the tea is 100% chamomile, it had brewed to a delicious full flavor that most certainly took advantage of the raw plant and all it has to offer. 
The good thing about the kraft bag is that it was easy to reseal, keeping the rest of the tea bags fresh, despite them not being individually wrapped. 
Whilst not a general problem, not having a string attached to the tea bag means you cannot swish it about, and have to resort to getting a spoon to do the job for you, meaning more cutlery to wash.
Whilst not a bad thing, it is just a preference!
Pros
Organic – ethically sourced chamomile with no nasty chemicals involved
Toxic free bags – Abaca hemp fiber paper instead of the usual tea bags
Bag has a resealer – helps to keep the tea fresh
Cons
No string – have to use a spoon to remove the tea bag rather than by its string
If you want to try a tea that looks really pretty as it brews, then the U.S. Wellness Naturals loose leaf flowers are a must-have. The tea itself is the raw whole flowers of chamomile which would look fantastic in a clear pot.
This bag is suitable for the most hardcore of tea drinkers – specifically chamomile tea drinkers. The 1lb bag can brew around 200-400 teas depending on how much loose leaf is used per cup.
The resealable kraft bag keeps the chamomile fresh and ready for that next 'cuppa'. It also means nothing can find its way inside the bag, making it extra secure – though it might not help you if you have another chamomile addict in the house who may find their way into the bag. 
Each bag has been packaged in Cleveland, Ohio, after being organically sourced in Egypt. 
The tea itself was strong and flavorsome, so would suit those who really like chamomile. The whole chamomile loose leaf bundle gives the flavor an extra boost without being too overpowering and disgusting – plus having the whole flower creates a more sensual and natural experience. 
The only downside is the bag may be too big for some, however as stated by the company, the product can also be used for making something like chamomile essential oil.
Pros
Whole chamomile flower – raw flowers that bring out flavor and a visual experience
Resealable – keeps the unbagged loose leaf chamomile fresh
Makes a lot of tea – in fact, it can be used for around 200-400 teas, depending on how much you use per cup
Organic – no toxic chemicals were used in the growing stage
Cons
Too big – for the average person the package may be too big, though it can be used for other things like chamomile essential oil
JusTea is an award-winning brand that creates tea hand-plucked by a Kenyan women's co-op. This means that this company provides reputable work for women in Kenya.
None of the tea includes chemicals or pesticides either, making them organically grown and toxic free. 
Not only that, the company has a direct-trade partnership with Kenyan farmers meaning they pay the farmers a fair wage, and get delicious fresh tea from them.
The great thing about the packaging as a whole is that it can be completely composted using a composter in your backyard, yet will keep the loose leaf tea very fresh.
It is like a tin, rather than a resealable kraft bag, making it look really cute on a kitchen countertop. 
Speaking of the tea, it has wonderful chamomile flowers (like the U.S. Wellness Naturals brand) but also includes other organic ingredients such as lemongrass and licorice root.
After steeping the tea for around 4 minutes as suggested, it produced a delicious evening time tea. Whilst the main flavor of chamomile is there, it has a sweet end taste because of the lemon and licorice root.
You are able to reuse the same tea leaves, you just need to steep it for double the time. It made the same exact tea without tasting weak, though we recommend you leave it steeped in the tea as you drink it for a stronger flavor second time round.
Again, like we stated for another product above, if you are after 100% chamomile, then this is not it. However, sometimes you need those extra flavors to balance it out.
Also, it comes with a wooden spoon which is just another fantastic touch from this tea!
Pros
Award-winning – a brand that has exceptional flavors
Community spirit – supports Kenyan women and farmers
Compostable packaging – that keeps the loose leaf tea fresh
Free wooden spoon – to use to pick out the tea
Cons
Not 100% chamomile – includes other ingredients too, though it adds to the flavor really well by introducing sweeter notes
Nothing gets more British than a tea from Yorkshire on this list. If you want something that is genuinely British tea, then you cannot go wrong with Taylors of Harrogate (or Clipper for that matter). 
Inside the box you will find individually wrapped organic chamomile tea. Despite the tea bag material being the regular type you find in a box of tea, having taken a sip, they do not impair the flavor at all. 
As just stated, the tea leaves are organically grown meaning there were no chemicals used to help it grow. Not only is this healthier, but it makes the chamomile tea leaves keep their authentic and rich taste.
Whilst some tea bags can have an artificial flavor, this one is full of a pure chamomile taste. You can tell it has been expertly blended and picked, helping to produce a tea that is full bodied and calming. 
Whilst it does feel like a premium tea, it would be nice to have used something like unbleached tea bags, but as said above, it did not impair the flavor at all. 
Pros
British tea – feels very premium and homely
100% chamomile – with a bold and rich flavor
Organic – no pesticides or chemicals were used when growing the chamomile
Cons
Bleached tea bags – but these did not impair the flavor
---
Buyer's Guide
Now that you have looked through the top 5 chamomile teas, take a look at this handy buyer's guide so you can check out the key areas you need to focus on when buying tea. 
Loose Leaf
There are different ways tea can be packaged, but the main two are compacted inside a tea bag, or left loose.
Whilst loose tea may at first appear daunting, it is actually really easy to use. Also, loose leaf can sometimes give a bolder, richer flavour due to being able to control how much of the tea you want to brew.
Loose leaf also looks nicer, and can be transferred to a jar to have placed upon the countertop in the kitchen. Not only is it useful, but it looks great as a decoration too. 
If you do buy loose leaf tea, you will need some way to strain the tea in hot water.
There are many available, from metal to silicone, and each will require a teaspoon or two of the loose leaves. You then place it into the cup and let it brew in hot water for a few minutes.
The leaves can be composted as well.
Tea Bags
If loose leaf is not your thing, then tea bags are still a good option. They take away the job of having to place tea within a strainer and guess how much you might need. 
Instead, all you will have to do is take a pre-filled tea bag out of the box and let it brew in hot water. Simple.
A tea bag more than likely cannot be composted, though some actually can, so read the label before throwing it away.
Ingredients
Whilst you may want simple chamomile, many have added ingredients. We are not talking sugar either, we mean other types of tea leaves or herbs.
If you specifically want chamomile tea to help you sleep, then the added ingredient of lavender will be a bonus.
Plus, other natural ingredients can be beneficial to your well being, just always make sure to read the label – especially if you are allergic to anything. 
Ingredients may also be added, such as licorice root, to give a sweeter taste.
Whilst chamomile tea is delicious on its own, there is something exciting about finding a perfect blend of chamomile and other speciality tea leaves to bring even more flavor to the senses. 
Ethically Sourced
A good tea brand is usually ethically sourced, though not every brand will be able to claim this.
You can normally tell if they are by the fact they are able to brand themselves as fairtrade or straight to the point: ethically sourced.
This means that they have fairly produced tea and sustainably, without interfering with anyone's human rights, and have done it in a legal and fair way. 
If this is something you look for when it comes to products, then always make sure it is officially ethically sourced and clearly labelled upon the packaging. 
Organic
A lot of tea is organic, and just like with the ethically sourced, it will likely be clearly labelled upon the packaging.
Organic means that no chemicals or pesticides have been used to grow the chamomile (or tea). This makes it much healthier, but also means there are no nasties lurking on the tea leaves and into the air. 
Frequently Asked Questions
What is Chamomile Tea?
It is a very popular type of caffeine-free tea which you drink on its own, rather than adding anything for taste.
Chamomile is a herb that comes from a daisy type flower that belongs to the Asteraceae plant family. They are dried and used as the 'tea leaves'. 
The tea itself has earthy tones alongside a sweet taste.
Can You Add Honey To Chamomile Tea?
There is nothing wrong with adding honey to chamomile tea. It is actually very common to do so. Not only does it add a sweeter taste, but there are many benefits to honey as well.
What are the Benefits of Chamomile Tea?
There are many benefits to drinking chamomile tea. These are:
Reducing inflammation
Helping with relaxation and sleep
Reducing the effects of menstrual pain
Treating the symptoms of a cold
Who Should Avoid Drinking Chamomile Tea?
Because chamomile tea is made using a flower, those who are allergic to flowers and pollen should not drink this type of tea.
Also, those who have been known to be allergic to chamomile products, they should avoid anything containing chamomile. 
Is It Okay To Drink Chamomile Everyday?
It is absolutely safe to drink chamomile everyday, whether that is one, two or more cups of it. Some studies have shown that it is safe to drink up to 5 cups of chamomile.
When Should You Drink Chamomile Tea?
There is no rule when you should drink chamomile tea, though it is useful to drink it up to 45 minutes before bed. This can help to induce sleepiness to help you have a restful night. 
Doing it 45 minutes before your head hits the pillow means it gives your body time to produce sedative feelings which are controlled by chemical compounds. 
Can Chamomile Soothe A Sore Throat?
It has been used for centuries as a way to benefit different health conditions. If you have a sore throat, then chamomile can help to soothe it.