There are several ways to take a targeted stress relief supplement. Clearly, capsules are the more accepted form, yet there are other ways you may prefer.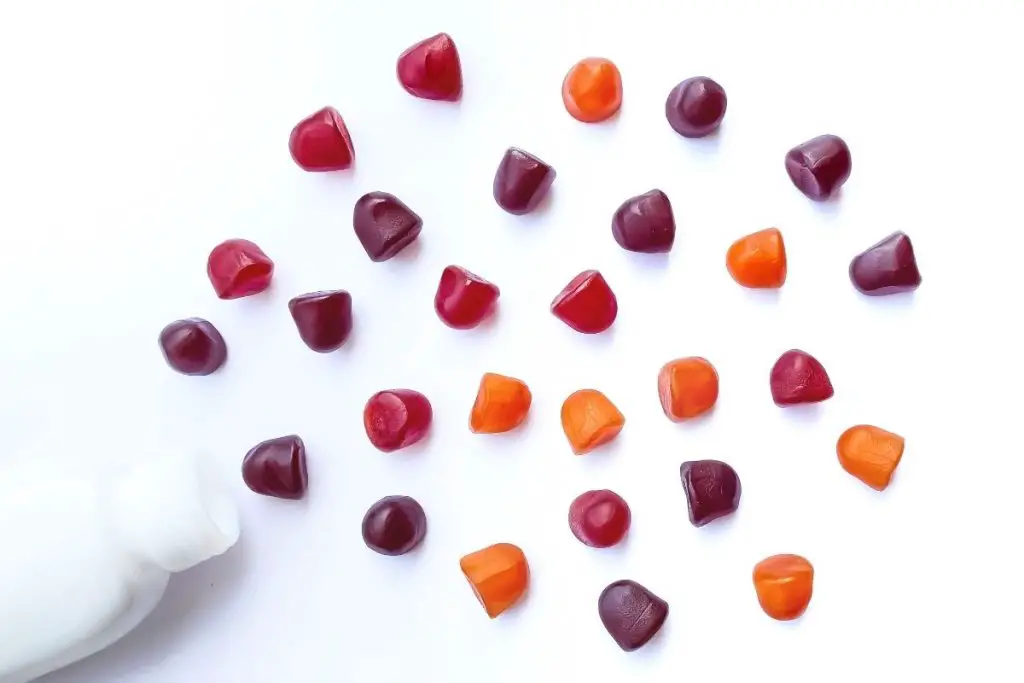 You could take it as a powder mixed with water as a drink or even a chewable gummy. The main thing is ensuring that your body and mind get the anti-stress relief it requires. 
Some people simply demand an alternative to conventional ways of taking supplements. Swallowing capsules can seem rudimentary and something of a chore.
Thankfully, Natural Vitality has introduced their Calm Magnesium Citrate Supplement as stress relief in a cup. As a leading magnesium brand in the US with over 35 years of experience in stress relief, they should know how to deliver it.
This supplement comes in seven flavors; raspberry/lemon, sweet lemon, cherry, watermelon, strawberry/mango, unflavored, and orange with the calming effect best experienced before bedtime. 
This is an almost effortless delivery that users of all ages may enjoy. Simply put half a teaspoon (1g) of the powder in hot or cold water. Then the fun part, watch it fizz up, stir the mix until it is dissolved then drink up.
Just make sure you have enough space in your container for the fizz. The magnesium is listed as ionic magnesium citrate and derived from citric acid with magnesium carbonate. Once the powder is mixed, this becomes a highly absorbable blend. You can also dilute the 
We really liked the fact that this was a Non-GMO Project Verified in our experience of this product. The formula is also vegan and gluten-free as it does not contain sugar, fructose, starch, or any artificial flavorings or colors. 
Pros
Non-GMO Project Verified – Feel good about what you put in your body as this has been tested as Non-GMO
Vegan And Gluten-Free – The formula is sugar-free and also without fructose, starch, or artificial flavorings and colors
Easy To Use – Dissolve half a teaspoon with hot or cold water and watch it fizz
Contains Electrolytes – Great for a post-exercise drink, especially if you sweat excessively
Cons
Unique Flavor – Some may find the slight flavor a little off-putting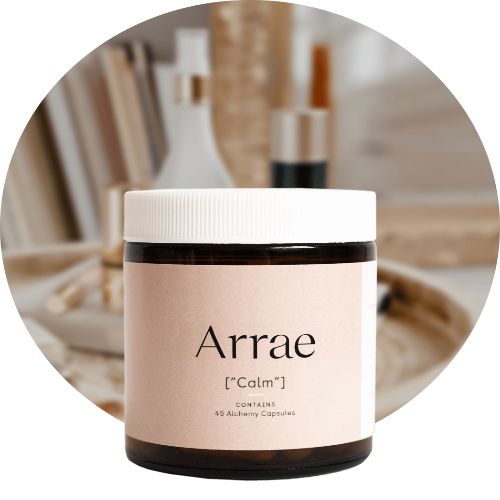 Reaching a state of zen has a lot to do with your digestion. After all, how zen can you be with a rumbling stomach?
Arrae's Calm Alchemy Capsules use a natural combination of herbs, minerals, and vitamins to promote a state of calm.
Your muscles should be relaxed and the tension released. Above all, those spiraling, negative thoughts are combatted by calming chemical messengers in the brain. 
There are only four ingredients included, which is a really simple, effective formula.
Those potent ingredients include L-Theanine to combat anxiety, Inositol which reduces panic, Passionflower for relaxation, and for calm there is Magnesium Bisglycinate.
Those ingredients help relieve physical nausea and panic, helping you get on with your day which we liked in our testing.
Pros
Improves Digestion – By controlling your cortisol, you can aid your digestion and lower stress
Encourages Alpha Brain Waves – The supplement will help relax the body by promoting calming alpha brain waves
Natural Ingredients – Just four natural ingredients are used including L-Theanine, Inositol, Passionflower, and Magnesium Bisglycinate
Cons
Price Tag – These may be comparably more expensive than a lot of other calm supplements
After a few hours of concentrating on the same task, we can lose ourselves in the brain fog. Taking a break might help, so could getting a drink, yet occasionally you need a little help. BodyBio Calm uses a botanical blend to achieve a sense of calm and bring that focus back.
While it should help you sleep too, the supplement helps stabilize chemicals in the brain without causing drowsiness or fatigue, which we noted in our testing of this product.
We really liked the balanced stress response in the formula, which supports structural protein synthesis. For generally improving the health of your brain as well as providing adrenal and central nervous system support, this is a great supplement.
You only need to take one capsule up to three times a day for a well-designed natural supplement to alleviate stress and anxiety.
Pros
Balanced Stress Response – The formula is specially designed to support structural protein synthesis, your brain health, and help you sleep
Adrenal And Central Nervous System Support – The supplement supports the brain and the adrenals to stabilize brain chemicals without causing fatigue
Botanical Blend – Promotes a general feeling of focus and calm with botanical ingredients
Cons
Better For Stress Reduction – Several users suggested that the supplement worked best as a stress reduction aid rather than to help them sleep
Kids (and adults alike) will really enjoy the convenience and fun of chewing on some gummies. As easy as chewing on a candy, Natural Vitality's Calm gummies are great for relieving anxiety, and they are delicious to eat.
We liked how satisfying they were and how accessible without the need for water, as you can simply take them on the go. Have a bottle on your desk at work or in your workout bag for quick delivery right when you require it.
These work really well to get your muscles relaxed after a gym session or ready for a long afternoon.
Due to their readiness, these gummies are great if you are someone who gets anxious before flying. Make sure you remember to put a bag in your hand luggage and simply take one shortly before take-off.
There is 83 mg of Magnesium in every tiny gummy but do be aware that while adults can take four a day, children are recommended to only take one.
The ingredients are also reassuring, as the gummies contain organic fruits and vegetables. As well as muscle relief, these can help towards a good night's sleep and lower anxiety.  
Pros
Fun Method – A lot of kids will enjoy chewing on the gummies as if they were candy
Organic Fruits And Vegetables – The gummies contain organic fruits and vegetables for a nutritious formula
Low In Calories – The gummies are relatively low in calories and sugar
Cons
Artificially Sweet Flavor – Several users found the artificially sweet flavor not to their tastes
---
Buyer's Guide
There are several ways of taking a calm supplement. Finding the right one for you could make taking the supplement less of a chore.
It should also help you not to forget to take it in the first place if you actually look forward to it. This is especially true for children who may not enjoy conventional supplements in capsule form and may prefer a drink or even a gummy.
Capsules
The dominant form of supplements is the capsule, and for good reason. They are a no-nonsense, proven way of delivering nutrients and minerals.
If you have taken capsules for your supplements, then there may be little reason for you wanting to try any other method. However, capsules may not be for kids who find it difficult to swallow.
Gummies
A fun, alternative way of taking supplements is as a gummy. These are ideal for kids who enjoy candy, as they may not even realize that the gummy is doing them good.
They are typically bigger than capsules and are chewable, which is much preferable for kids. You can find gummies in a range of flavors, so finding one that you, or your children, like should be easy.
One of the benefits of gummies is that you do not need any water to take them. That makes them a handy means of getting the supplements you need, simply by having a bottle handy. 
Powder
If you prefer drinking your supplement, then try them in powder form. This method is ideal if you are used to having a glass of water before bed.
You can get the powder in unflavored form, so you should barely notice the difference, and it should encourage you to take the supplement to aid your sleep.
The powder is arguably the more fast-acting delivery method too as the nutrients can be absorbed quicker once dissolved. 
Final Thoughts
There are several calm supplements to try. You may simply want a capsule as the reliable form you have used for years. However, you may want to check the ingredients to ensure that you are getting the nutrients you require.
Many formulas have a huge range of nutrients that may mean you get some of what you require but not in the right dose. You may also want to stick to organic, natural ingredients for peace of mind that you know what you are putting in your body.
Calm supplements are designed to help relieve anxiety and stress. They should also help you sleep, so feel free to try a supplement yet if it is not working, there are others out there.