As you begin your search for the best meditation blanket to accompany you on your path to enlightenment you may experience a feeling of excitement! Outside of meditation, a blanket may otherwise seem like a simple, practical accessory. In your meditation practice, you will find a sort of compassionate affection to develop for this item as it warms and supports you in your meditation. Through this writing, I will help guide you towards your new blanket that will serve you well for years to come!
The Uses of Your Meditation Blanket
My personal meditation blanket has been with me for over 6 years and I literally take it everywhere with me. My blanket has served many purposes including a pillow, a shawl, a hoodie, windbreak, padding to stand on, a bed, a meditation cushion/bolster and of course – as a blanket!
If you want to get creative you can even improvise your blanket into a cloak that you can wear with good adaptability and versatility to your environment:
I also have a separate meditation shawl made of yak wool that I use for meditation or simply wrapped around me for comfort and warmth. I don´t use the shawl in such a variable fashion as the blanket because wool of the shawl is more delicate than that of my Mexican yoga blanket.
During meditation, you will find the blanket will offer you a small amount of support for your shoulders and back. It will also bring forth warmth and comfort into your meditation because even a summers morning at 4 a.m can be a bit too chilly to sit still peacefully.
You can also fold multiple meditation blankets to use as bolsters for your knees and hips to make meditation more comfortable!
Your Blanket and Your Yoga Practice
You will be able to implement your blanket into your yoga practice as well by folding the blanket in different ways to provide support. You can create bolsters with the blanket to be able to successfully complete specific yoga poses. Using these props are usually not necessary to complete the yoga pose, but they do greatly enhance your experience by making them easier.
As you learn the different ways to fold the blanket you will find an endless array of possibilities. You can use the blanket for back support or hip support with these different folding options. If you watch the video below you´ll find some beginning guidelines to start folding your blanket for yoga:
Meditation Blanket Benefits
The blanket that you use for your meditation will offer the obvious benefits of providing you comfort and warmth. You can also wrap the blanket in different ways around your body so that it is not covering your entire body if it is too warm.
With the blanket wrapped around you, it will offer a small amount of back support to your posture. It is important to keep proper posture while meditating so that you don´t injure yourself in the long run. A meditation cushion or bench is another item to consider as your meditation seat will be the biggest help in supporting your posture. You can even go further by getting additional back support through a meditation chair with back support.
Bringing these items together with a meditation blanket will ultimately give you a peaceful and comfortable meditation experience and environment as you progress into more advanced levels. It will also hold you in a more proper seating position and give you a sense of being embraced. As your body disappears within the blanket while you settle into your meditation you will find the blanket brings a sense of oneness as it wraps around you in a single form.
Ambiance
The ambiance a meditation blanket brings to your practice is an obscure topic to try and talk about. In contrast to the obvious presence that a meditation statue brings or the intense aroma of essential oils, meditation candles, and incense sticks, the blanket has a much more subtle effect.
The blanket will help contribute and complete the calm, peaceful, and relaxed atmosphere you are creating in your meditation space. As you see yourself in your mind´s eye you will feel more complete in your practice but more importantly, you will obtain a solid foundational intention towards your practice. The items that you attract to create your meditation space will become part of your life as much as they are part of your practice.
It´s important to note that it´s not necessary to acquire all the material items to advance in your meditation practice. These items simply help contribute to maintaining consistency in your daily practice by serving as visual reminders and also by being a physical element that expresses your commitment to your practice.
Choosing the Right Blanket
When it comes to meditation blankets you will want to consider what type of blanket you will want. There is a large array of blankets from traditional Mexican wool blankets to a weighted blanket that gives you a more intense sensation of being held. You may also consider having a fluffier and cozier blanket to essentially maximize the comfort and warmth depending on your preference and environment.
Travel Capacity
My personal preference for meditation blankets is the traditional Mexican yoga blankets that are available. It has been my first and only meditation blanket I have ever had to acquire and it travels wonderfully. You don´t have to worry about it taking any space because you can just wear it onto the plane like a shawl and roll it up and clip it up on your backpack when you´re at your destination!
Alternatively, larger and comfier blankets may not travel as easily but they will offer the benefits of being comfier and cozier.
The Best Meditation Blankets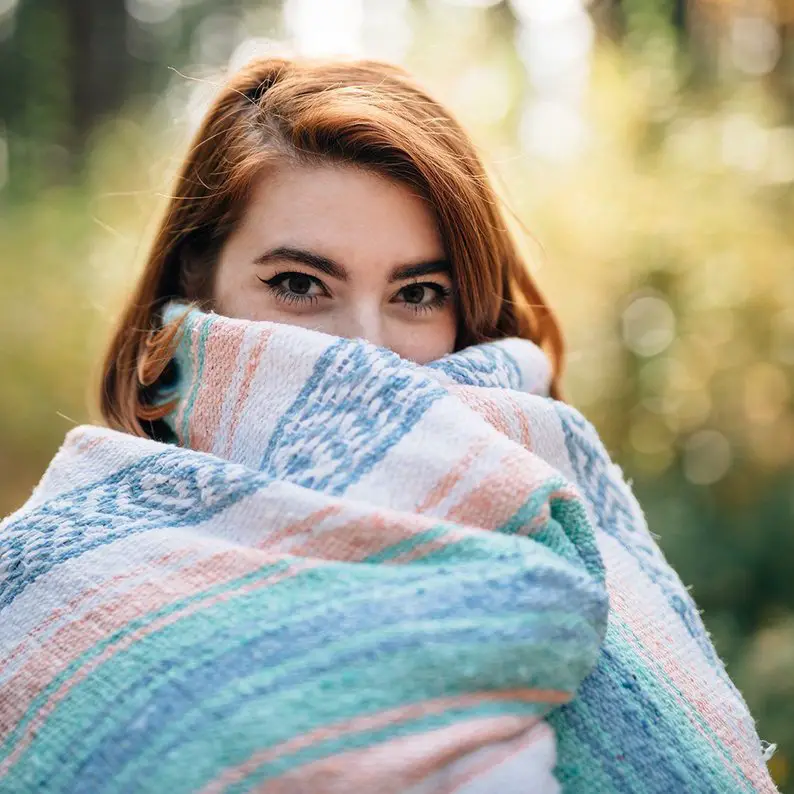 Now that we´ve covered the different uses and benefits of our meditation blankets it´s time to take a look at the best meditation blankets available! I´ll help take you through the different types of meditation blankets so you´ll have all the information you need to make a stellar purchase.
El Paso Designs Mexican Yoga Blanket
El Paso Designs Mexican Yoga Blanket is one of my personal favorite styles of blankets for meditation as well as everyday life. You might need a couple of these! El Paso´s yoga blanket is 51 inches in width and 74 inches in length. It will work for all your yoga blanket/bolster and meditation needs. You can even take it camping! But be careful of snagging the thick threads of the blanket.
The blanket has a large array of color choices and is directly imported from Mexico. They are created using recycled fibers so the creation of these blankets remains environmentally friendly. The blankets are acrylic but still has the softness and comfort of a traditional wool blanket.
These blankets are thicker than most blankets which will certainly keep you warm but less thick than what some are used to at yoga studios. The blanket will also make a good windbreak if you wear it like a shawl or even wrapping it around you with a hood.
It´s also a great cat and dog magnet, which I can confirm from personal experience. If you do get one of these blankets and have an animal friend that frequents your space it may be a good idea to consider one for your buddy. Otherwise, ¨your¨ blanket may ultimately become your buddies blanket anyways.
People have had issues with putting these blankets through their washers and dryers and becoming misshapen or discolored. It is ideal to hand-wash these blankets and I would personally recommend to hang it to dry which is how I dry mine.
Pros:
Outdoor friendly
Variety of color choices
Recycled fibers (acrylic)
Cons:
Hand-Wash Only
Snags and pulls easily
YnM Weighted Blanket
YnM´s Weighted Blanket is a blanket that is made of 100% cotton fabric and is filled with glass beads. These beads give you the feeling of being held when you are wearing this blanket and it is intended to help you fall into a deep, healthy, and peaceful sleep. The company also offers free mending within the first 3 years! (shipping not included).
The blanket uses a 7-layer design that is intended to form to your shape and wrap around your body as you sleep. It uses a larger percentage of glass beads than fiber to help regulate temperature better. The compartments are sewn in place to prevent movement of the beads and sound that would otherwise wake you up.
YnM recommends getting a weighted blanket that weighs 10% of your total weight plus 1 lb. For example, a 15 lb weighted blanket is intended for people that weigh about 140 lbs. If you do give it to someone, like a child or an elderly person, it´s a good idea to make sure they can remove the blanket off themselves if they need to.
In meditation, the feeling of being held would offer a unique experience in your practice. You may want to consider this as an alternative for your practice, in addition to a lighter, simpler blanket. People have had issues with the fabric being weak and the blanket getting holes over time. Generally, all fabric does this.
I generally keep thread and needle handy to hand sew patches onto anything of mine that becomes holy or ¨defective¨. I guess most people use sewing machines now, though, so you could always do that too!
Pros:
100% cotton fabric with glass beads
Covered with repairs for 3 years
Simulates the feeling of being held
The blanket is designed to regulate temperature and sound to allow you to remain in a deep sleep all night
Offers a unique experience to your meditation practice
Cons:
Fabric may need repair over time
Ever Ready Olive Drab Green Wool Blanket
Ever Ready´s Wool Blanket is styled after the standard issue military blanket and is great for any sort of outdoor use. It´s also a favorite among mediators because it is large and covers all of your body and it is also very light. Although it is lightweight, the wool will trap your body heat which will keep you quite warm.
The blankets material is 80% wool and is also made up of fire retardant material to keep you from catching ablaze by a campfire. This also might be a welcoming quality if you are meditating with candles or incense sticks! The blanket itself is 66¨ x 90¨ which is over 7 feet long!
Customers have been loving this blanket overall. Some customers have had issues with it going through the machine washer and the blanket still retaining the quality. This has only been in some cases and personally I put my 100% wool blanket (not this blanket) into the washer and I hang it up to dry. It would definitely be gentler to hand-wash the blanket though if you can.
Pros:
Great for outdoor use and campfire use or meditating with a live flame
Lightweight yet warm
80% wool / synthetic fire retardant material
Cons
Some customers have had issues with the blanket surviving through the washing machine
Chanasya Positive Energy Microfiber Blanket
Chanasya´s Positive Energy Microfiber Blanket is a blanket made of sherpa and fleece. Sherpa is generally a blend of synthetic fibers that give the soft and pleasant feeling of wool but cotton versions also exist. It is designed as a thoughtful gift but its elegant design and warm, comforting embrace of this blanket will serve well in your meditation practice.
The blanket is stitched with positive words that give a reminder to recognize positive energy. The size of the blanket is 65¨ x 50¨ in size and is also washable in the washer and dryable in the dryer! The product has a money back guarantee so if you decide you don´t want it you can send it back and get a refund.
The blanket would also make a great meditation gift to friends and family if you´re looking for a proper gift. The blanket is thicker than a typical meditation blanket and may be too much for you in meditation, so that´s something to keep in mind. I prefer to have a thinner blanket that simply wraps around me, but it really depends on what you prefer.
Pros:
Warm and comforting with positive words stitched into the design
Money-back guarantee
Great gift option
Cons:
Thicker than a typical meditation blanket
YogaAccessories Traditional Mexican Yoga Blanket
YogaAccessories Traditional Mexican Yoga Blanket measures at 52¨ in width and 72¨ in length. It is composed of fibers made from 50% acrylic / 40% polyester / 10% cotton. This means the blanket is mostly synthetic, but the benefit of this is that the blanket is completely machine washable. If you want a purely wool traditional blanket you will probably have to go and retrieve a hand-made one from Mexico yourself.
The blankets are offered in a variety of vibrant color options. These include dark blues, reds, purples and greens and light variants as well. Customers have said these aren´t quite as thick as the blankets they are used to in yoga class, but they do work well as a substitute and are large enough to wrap your body for meditation.
Also, the threads on the blanket pull easily so be careful of the blanket snagging. My blanket is an authentic wool blanket from Mexico and it still pulls easily – you gotta watch the snags! The threading is relatively thick in this style of blanket which is what leads to the issue.
Pros:
Machine washable
A vibrant variety of color options
Works great for meditation and as a yoga bolster substitute
Cons:
Not as thick as standard yoga blankets
Snags easily due to the thicker style of thread
Softest Travels!
Now you are well prepared to find the best meditation blanket that embraces you warmly and drifts your consciousness into a deep state of peace. You have a better idea of how you are planning to use your blanket and what benefits you´re going to prefer in the long run! You might choose a traditional Mexican blanket for the yoga bolster option or the weighted blanket to feel the embrace. The choice is yours! Continue forward and meditate well.