Finding the best meditation chair with back support can be a challenge. Life today can be full of uncomfortable experiences like the traffic on the way home from work, experiencing the airport, or being stuck at a desk all day. Without discipline, we will try our best to avoid the things that make us uncomfortable in life.
If you have begun to tread the path of meditation and mindfulness then you have probably already encountered one of your most persistent opponents: Pain.
This is why I've taken the time for you to find the best meditation chair with back support that will ensure you are secure and comfortable in your practice. This will enable you to go deeper into your meditation and longer in your practice before having to shift or end the practice altogether.
How's Your Back?
The average student who sits down to begin in meditation practice will tend to experience minor to severe pain throughout the body.
If you are a beginner starting in practice and finding yourself unable to extend your practice due to specific pain points in the back, then finding the right equipment with proper back support will certainly have you well on your way to a more peaceful and calm meditation experience.
Otherwise, you might be experiencing chronic pain in places that become much more intense during your meditation practice while you are staying so still.
One thing to consider during your shopping experience to help combat this pain is the ergonomics of the chair. The more accurate and precise it is, the better results you'll have in experiencing relief. If you're experiencing intense chronic pain it may be good to find an ergonomic specific chair that will be designed to fit the body to a proper position to maximize the comfort of the meditator.
As added fortitude in your decision to pursue meditation, it is good to know there have been studies done that have resulted in people experiencing less pain from their chronic illness or injury. The participants also had other psychological benefits like increased activity and a healthier self-image.
Extending Your Meditation
Having the back support on your meditation chair is going to help extend the duration of your meditation New meditators will experience pain due to fatigue and tension in their muscles. It's important to consider that you are currently sitting properly in your practice to relieve as much tension of your muscles as possible.
To sit, you may sit in any position that is comfortable for you and the most pose is Padmasana or Lotus Pose. This is done in different styles depending on the flexibility of the person. If you are beginning I would recommend doing a half-Lotus Pose.
You can truly injure yourself doing a Full Lotus position and unless you are comfortable with your flexibility it might be a good idea to wait to have a teacher in front of you to guide you.
Now that you have the pose you will sit in, ensure that you're hips are raised off the ground if you don't already have a chair. Then, ensure your knees are touching the ground. This relieves tension off your back muscles and keeps your spine aligned straight for greater comfort.
If you are not already doing this, do this first. You will be able to clearly see where your true pain points lie when you have mastered your posture.
Traveling
Another option to consider on your meditation chair is the size. If you are going to travel somewhere for a while you will want to take your meditation chair with you, especially if you are using it to minimize pain. Otherwise, you'll find yourself not meditating on the trip even though you told yourself you would.
If this is something that suits your need, some of the chairs are designed with this option in mind by creating adjustable and foldable chairs to be able to stuff them into the different pockets of your vehicle or suitcase.
Size and Space
Before you take the plunge on the meditation chair you want it could serve you best to create a dedicated space that will fit the chair, whatever size it may be. It is better to have a dedicated space for your meditation practice as opposed to moving around to different locations all the time.
Meditating in the same spot will help you form and mold your discipline around this space. Your mind and body will sync as your mind recognizes this as a place and time of work, or relaxation depending on your goal.
The 5 Best Meditation Chairs With Back Support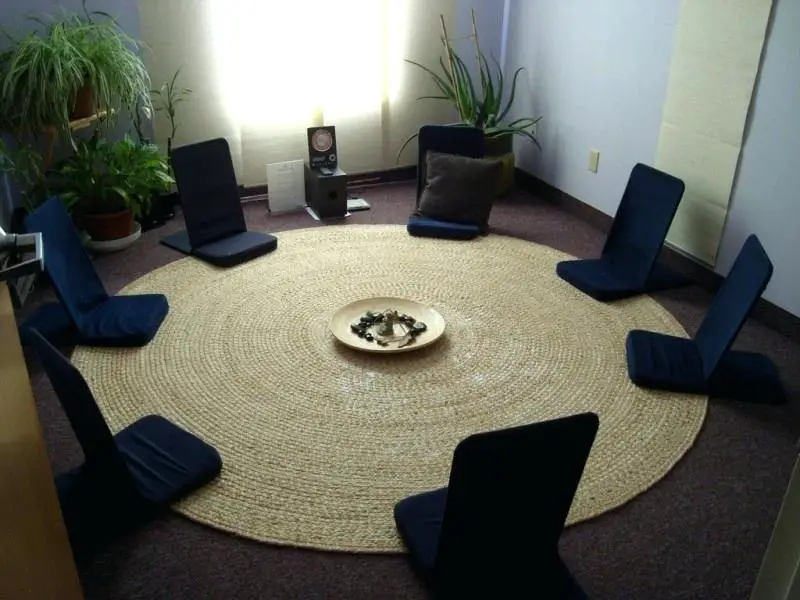 Friends of Meditation Extra Large Meditation Chair with Back Support
People love the extra large meditation chair from Friends of Meditation. It has a sleek look to it but more importantly, it is well designed to provide an ergonomic foundation for you to sit on.
People who have bought this all say that it's extremely comfortable and have used it in 10-day Vipassana meditation retreats for intense meditation sessions over a 10 day period where there are only breaks to eat and to rest.
People who experience chronic pain in their legs and knees also shared that this chair helped alleviate the pain that was hindering them from meditating consistently and that it was well worth every penny. Even new meditators have reported being able to extend their meditation to an hour with this chair!
The chair itself fits everyone below 6' 2" and this size has shown to be accurate. It comes with the 2 additional pillows that help you raise your hips up while you can keep your knees down. Aside from that, the meditation chair comes with a 7-year warranty to give you perfect peace of mind!
The chair is also fully foldable so you can fold it down and take it with you and it has a bag that comes with it so you can pack it around securely.
The only negative report from customers is the complimentary carrying bag that it comes with. The bag itself seems to be cheaply made and has come apart for multiple customers. It might be a good idea to make your own carrying case for it or if you're not so inclined you can reinforce the point the straps connect to the bag by sewing a strong thread, or even leather, through it.
Also, one user stated that his brother used the chair as a recliner and it broke a few months later. So just know, although it's comfortable, it's not for watching sitcoms!
Pros:
Extremely comfortable and ideal for new meditators or meditators with back pain.
Sleek, ergonomic design.
7-year warranty.
Foldable and adjustable
Cons:
The travel bag is cheaply made and might require reinforcement.
Not built for reclining
bonVIVO Easy II Padded Floor Chair with Adjustable Back Rest
The bonVIVO Easy II Padded floor chair is built with a backrest that prevents slouching and thus promotes healthy sitting posture. It's said to be able to hold a person up to 220 lbs. The chair is built with a sturdy design that allows you to do other activities from meditation such as reading, relaxing, office or group meetings, and just generally relaxing.
The chair is also designed with 5 different positions for the backrest making it extremely flexible and adjustable. The adjustments can be noisy on this one though, so keep this in mind before starting a group meditation!
It's also easy to adjust and also fold and store and is super lightweight at only 6.6 lbs. The folding is more of a folding out and it lays flat and open to be able to easily slide under a bed but makes it less practical in terms of traveling on an airplane.
People have proven its resilience with having heavier people sitting and leaning back in the chair without it flipping over or breaking. Some people have had issues with the chair not being durable over the long term, but the majority of customers have had great success. One customer even has them working with 100 8th graders!
The suede material that is used to cover the chair is also prone to clinging to things like grass and leaves that it might come in contact with. This is easily remedied by bringing a blanket or a mat with you if you bring the chair to the park or out camping.
Pros:
Backrest promotes healthy sitting posture for a multitude of activities.
Adjustable up to 5 different positions.
Great durability for the price.
Cons:
Folds out flat making it difficult to travel with.
When taking outside it may require a blanket or mat underneath to avoid clinging to unwanted material like grass and leaves.
NNEWVANT Back Support Adjustable Folding Chair
Nnewvant's adjustable folding chair is another multi-purpose chair that works great for meditation and can work great for any other sitting activities you might enjoy as well. The 5 angles of adjustments between 90° to 180° and are easy to adjust to find your maximum comfort.
This chair folds in half so that you can take it with you wherever you go and is only weighing in at 5.5 lbs. As a commodity bonus, it has a cover of the cushions so that you can wash it as time goes on.
The ergonomic design of the back support is intended to relieve you from chronic or temporary back pain and should result in extended meditation sessions…as long as you can keep your mind clear!
The chair also comes with a 12-month warranty so you'll be able to use it for a while and ensure that it meets your expectations. The chair itself has been reported relatively small and can be hard to use for larger people.
Some customers have reported that when they use the chair for 1-hour sessions they still don't feel the metal frame of the chair and remain comfortable throughout the session. People also have taken them camping and use them with kids!
Pros:
Multi-purpose chair for all your sitting needs!
5 adjustable positions between 90 and 1800 degrees.
Lightweight at 5.5 lbs.
Removable cover for easy washing.
Ergonomic back support design.
Durable and comfortable with a 12-month warranty.
Cons:
Smaller in size and hard to use for larger people
Friends of Meditation Buddha Bliss Meditation Chair
The Friends of Meditation Buddha Bliss meditation chair features back support while in cross-legged posture and an extra cushion on the floor cushion so that you can keep your hips elevated and your knees touching the floor.
The back support on this chair is very strict and helps keep the body still while meditating. With the improved stillness and increased comfort, you can expect to extend your meditation sessions with this chair.
The chair does fold but it is about 12 lbs making it impractical for fitting into a suitcase for travel but it will still be able to store well. It does include a travel bag though so you can transport it around easily on its own.
The second cushion that comes with the floor cushion is relatively firm and may require some time to be broken in. If you have a softer cushion to elevate your hips while sitting on the chair you may want to try to alternate between the two if you run into any issues.
Pros:
Combination of back support and extra cushion for hip elevation.
Back support keeps body extremely still while meditating which helps extend meditation sessions.
Included travel bag for travel periods.
Cons:
On the heavy side at 12 lbs.
The original secondary cushion is firm which can be rough on new meditators during long periods in which they may want to consider swapping out for a softer cushion.
The Birdrock Home Adjustable 14-Position Memory Foam Floor Chair
Birdrock Home's Adjustable Floor Chair is made of high-quality and chopped up memory foam that is sewn together within the soft plush fabric. Within the 14-positions the chair can adjust too you can lay it down flat to take a nap or keep it 90° if you want to play a board game. Or you can simply recline to game!
This chair, being more focused on comfort, will be more useful to those who want to use the chair for more than just meditation.
The multi-purpose option is nice, but with the chair positioned at a right angle, you will also experience comfortable meditation sessions as this chair was designed for comfort. People have reported that this chair is extremely comfortable and even more comfortable than the rival Blackjack chairs on the market.
The ability to lie flat will make this chair easy to store and even stackable if you have multiple but with the bulky cushioning it will make it impractical to really travel with unless you're driving.
People have said it's smaller than it seems in the pictures but larger people of heights going up to 6' 2" have been able to use the chair comfortable and without it losing shape or falling backward.
Pros:
High comfort level due to soft plush fabric and memory foam center.
14 Different adjustments including flat and 90 degrees.
Easy to store with the ability to lie flat.
People of larger sizes are able to use the chair comfortably.
Cons:
Due to the padding, the chair is not designed to be able to travel well or even leave the house
Why should I get a meditation chair?
Well, a meditation chair helps out with supporting you in areas that you may not yet be strong enough to be able to hold up yourself. These include places in your back and core that may not be strong enough to handle the extended duration of a meditation session.
You can strengthen your core muscles and back muscles through yoga and exercise. As you grow stronger you will slowly remove the need for a chair or any additional support if you are absent of chronic illness or pain.
Another note is that when you are starting out meditating another obstacle aside from pain is consistency. It is difficult sometimes for us to find time to meditate every day in this era.
Deliberately purchasing a meditation chair and making that investment in yourself and that commitment to the universe that you are meditating will impact your meditation practice with new vigor and renewed enthusiasm about the practice.
To Enlightenment!
Now you are fully informed and ready to take action on what is going to be the best meditation chair with back support for you! You'll be able to narrow down the best option for you whether you are trying to relieve your back pain or looking for something a little bit more travel compatible.
You may also just be looking for a comfortable floor chair that works for meditation but serves other purposes as well! Either way, you are set and ready to sit! Be happy!