Have you been on the search for the best meditation cushion set to help improve and extend your meditation? Well, I've gone through the best meditation cushion sets available to help you find the right cushions that will be made of quality material and give you the results you're looking for.
Meditation is something that can be done anytime and anywhere but as you begin to go deeper into meditation you might notice some pain points appearing during your practice. The proper use of meditation cushions will relieve your muscles of the tension that is being created so that you may have a peaceful meditation experience.
All Shapes and Sizes
It's important to consider that there's no best meditation cushion. It all depends on you as an individual for what setup is going to be best for you! Many sitters are able to use just a simple, circular pillow that sits beneath their hip bones and helps keep their spine aligned properly.
Aside from a basic pillow base, some people will acquire different cushions that are smaller or rectangular or any kind of pillow really. Having different cushions placed indifferent support areas like under your knees, can help alleviate different pain points that some individuals may experience while others do not.
The point is to not be discouraged if your first pillow doesn't help remove a pain spot you are focusing on! You may just need to make some additional adjustments to your setup with an extra cushion or even a blanket you may already own to find the setup that brings you peace.
Posture
Sit up straight at the dinner table! Was I the only one who heard this all the time? Posture is extremely important because proper posture will give you a sweet relief of a lot of that back pain.  
The idea isn't necessarily of just the cushion and the result others may experience but more so what is your posture? The above information will help you only if you acknowledge your own personal situation and adapt the circumstances of the cushion for where you're personally at!
If you are struggling from more intense back pain and require some additional back support you can check out the best meditation chairs with back support to find one that will have back support built in.
How to Sit
You will want to try and keep your spine erect with your lower back curved in or "tucked" and your upper back curved out slightly (shoulders back) with your neck curved in slightly. Then just keep your head level!
Also, with the meditation cushions, you will find yourself more comfortable if you slide yourself forward more towards the edge of the front of the cushion. If you find yourself meditating to close to the center you can slide closer to the front easily without greatly disturbing your meditation.
With these meditation posture instructions below please note to never force anything when you are going into your chosen meditation posture. It is important to listen to your body!
You Can Practice However You Like
It's worth to note that there is no "right" way to sit. You can lie down or stand or sit. Whatever is most comfortable. As you progress in your practice and your path you will experience consistency and more comfort and power in your practice and posture.
Having good posture will actually begin to affect you psychologically. A perfect posture, head held high gives self-confidence and self-awareness. During meditation, it continuously proves your intention and increases your determination towards your practice. It tests willpower.
Keep it in mind, but don't let it get you frustrated. Focus on having good posture. If your body is tired and must rest in a poor posture, then rest. You do not have to stop meditating unless you want to. Then return to proper posture.
Repeat this, even if you can only do 1 second in proper posture. Next time do two seconds. Then 4 seconds. Then repeat this. Be vigilant!
You can go anywhere
It could cross your mind that you may not necessarily need a meditation cushion. You might have cushions around the house that you can formulate into a cushion that would serve your needs. This is true!
There are some hidden benefits to having a dedicated meditation pillow. The mind has an interesting relationship with human consciousness. It is separate from the self, from you, yet it insists to claim that it is you!
Program Your Mind
The mind itself can be programmed. You can certainly read up on the curiosities of the mind but it is more prevalent to say that there are many different ways to do it.
Visualization meditation, verbal and written affirmations, positive environment and reinforcement. There are others that I haven't personally used consistently, like binaural beats.
Ultimately the mind responds to things that repeat. If something is repetitively shown to someone, they will react. Have you ever seen an ad that you remember seeing before but didn´t want the product until now? If you see your meditation cushion every night, in the same spot, you will consistently be reminded of your practice and engage more often.
The 5 Best Meditation Cushion Sets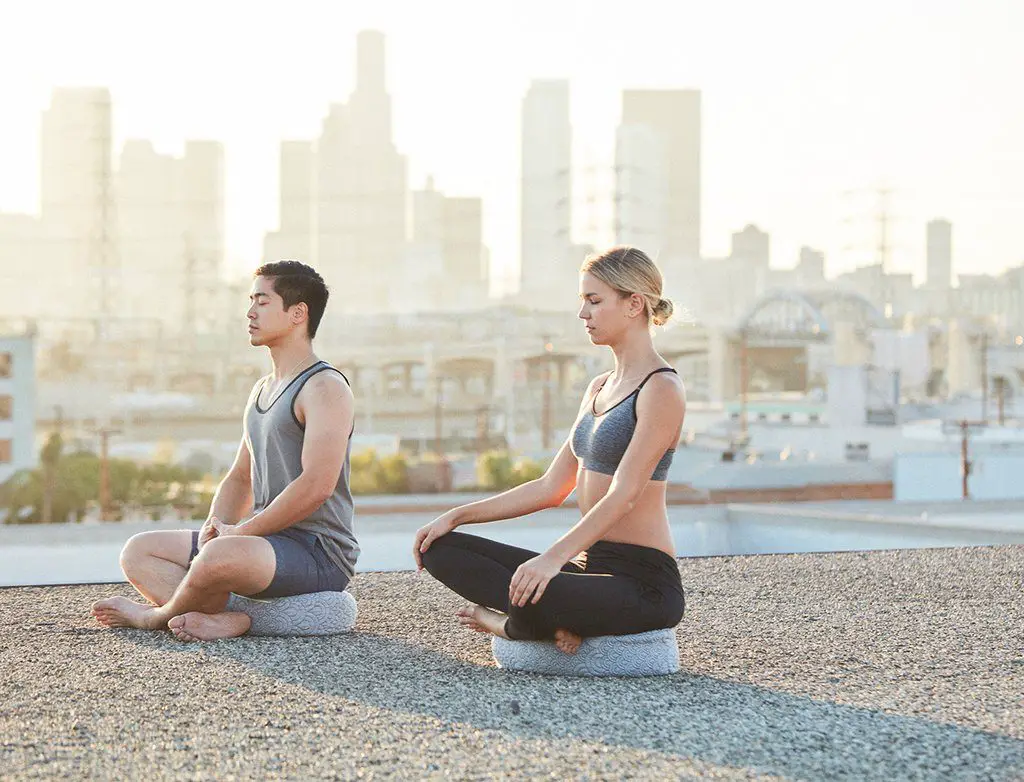 Now, I will show you the next best part! The cushions! I will walk you through a few different options that vary in style and design. This way you will be able to find the best cushion that's going to suit your needs on a daily basis. Sit down, and be comfortable then read on!
Beans Products Zafu and Zabuton Meditation Cushion Set
The Beans Products Meditation Cushion Set sits with a belly full of buckwheat hulls grown in the USA and has the fabric sewn with cotton. They also have an option for earth-friendly hemp fibers!
The product has two sizes in either 14" round or 18". The cushion is designed to help you maintain a proper posture of the spine and also gives you added relief from the knees on the floor with the floor cushion that it is installed with.
The floor cushion gives you an added benefit of being separated from the floor and being completely within a meditative space. These environmental preparations can induce a certain understanding within you that may be calm, peace, wisdom or any number of feelings you may interpret and feel as you are meditating.
The manufacturers hand stuff the buckwheat and close the cotton or hemp cover over it with a zipper. The buckwheat insert is easily removed and washable. Simply unzipper the cover from underneath the handle you use to carry it and voila! You're ready for washing.
One thing that comes up amongst customers is that some think it is too small and some think it is too big. It is worth mentioning that the floor mat dimensions are 32″ x 26″ x 3″ on both the 14" and 18" round cushion. So make sure you have space for this and you can simulate the size of a cushion by bending a tape measure into a circle.
This will give you an idea of what it will look like so you can measure space for it if you are unsure about the size!
Other than this, most customers have found the cushion to be comfortable and to be assisting with their posture and sitting position.
Pros:
Variety of options for fabric color and material and size.
Creates a space secluded from your physical environment by separating you from the floor.
Easy zipper system to pull the buckwheat out and be able to wash it.
Cons:
Can be tough to choose the right size, measure if you want a visual!
Florensi Meditation Cushion
The Florensi Meditation Cushion is a standard meditation cushion that you will see almost everywhere that meditation is happening. The Zabuton Zafu style of cushions gives you the standard circle pillow and this particular style comes with useful handles that you can carry them with.
This item is nice because it is also designed to act as a bolster during your yoga practice. This traditional Japanese design is also ergonomic so that your body will be guided into falling more naturally into a position of comfortable and proper posture.
This meditation cushion is 16″ in diameter and 5″ tall. The buckwheat stuffing will form to your body as you sit in to provide extra comfort during meditation. The 100% organic cotton covering can be unzipped, removed, and washed when it is needed. The buckwheat hulls are also in their own zippable pouch inside the cushion so that you can add and remove buckwheat hulls to your preference.
Customers are raving about this cushion and just simply love it. As with any cushion stuffed with buckwheat, the cushion can take time to get broken into your form and will fit you even better and become closer as you use it more and more.
The size of the cushion doesn't take a whole lot of space and it makes them easy to stuff into a backpacker's pack if you want to take it with you. Sometimes, for me, the traveling aspect of an item is the most important part of my purchase.
Pros:
Standard Ergonomic design.
travel-friendly
Easy to remove the cover and wash.
Able to easily add or remove buckwheat hulls
Cons:
No specific cons for the cushion as a whole
REEHUT Zafu Meditation Pillow
The REEHUT Zafu Meditation Pillow is a round meditation pillow with dimensions that come in 3 different sizes for you to choose from. It also a sturdy carry handle built into the cover so you have a handle to tote it around.
The buckwheat material is sealed within a core for easy removal and insertion from the meditation cushion cover. The cover itself comes in the choices of either cotton or the earth-friendly option of hemp!
The cushion is perfect for all levels of meditators and will support your ankles, legs, knees, and spine in all different postures. All of REEHUT's product comes with a 30-day replacement, 2-year warranty, and a lifetime of customer support!
Customers are happy with the product and state that it is firm and sturdy. It has a little bit of give due to the buckwheat which allows it to form to your body better. If you choose you can always remove buckwheat from your cushion to make it less firm.
People have found that the size has made this one easy to carry around as well in short or long travels. You can go more expensive and fancy on cushions but this one will serve your purpose and is a great buy at the price.
Some users, though not many, have experienced in as little a month that the cushion will flatten and not be as usable or have experienced the seam tearing with the buckwheat leaking out.
Pros:
Multiple sizes, cover material, and colors to choose.
Carry handle for portability.
2-year warranty and customer support.
Cons:
Some users have experienced a torn seam or "flat cushion"
Brentwood Home Crystal Cove Meditation Pillow
The Brentwood Home Crystal Cove Meditation Pillow is a beautifully woven material with a soothing design to calm and relax the mind. It is great for meditators of all skill levels but even works for simply sitting and relaxing.
The cover itself also is able to be removed so you are able to wash the cover, just like a pillowcase. It has a certified organic cotton liner to hold the buckwheat material that is the filling. The liner makes it easy to remove and add buckwheat so you can adjust the firmness to your own preference.
The last feature is the carry handle that is attached to the cover to easily carry your meditation cushion from home to a group meditation sitting.
This cushion has been impressing customers left and right. Many customers purchased this Brentwood pillow attempting to replace a different cushion that they could never get comfortable on. One person stated their meditation practice went from 10 minutes to 1 hour in 2 days!
With that being said, others have stated that it sits too high for them to be able to get fully comfortable on. You may find your hips lifted about 6-7 inches in the air and find it uncomfortable.
If you feel that the extra height on the hips is too much it might be best to find a shorter cushion that will respond to your body type best.
Pros:
Intricate, soothing design
Works great as a comfortable seat for the floor as well.
Removable cover for washing.
Certified organic cotton lining to be able to add/remove buckwheat for firmness preference.
Carry handle for easy transport.
Cons:
Cushion may cause you to sit high and can be uncomfortable for some
Peace Yoga Zafu Meditation Cushion
The Peace Yoga Zafu Meditation Cushion sits with the dimensions of 13"x13"x4.5" and comes in a variety of calming color choices and designs. It also is multipurpose being the proper dimensions to assist as a substitute yoga block during your practice.
The full zip cover is made of cotton and comes with the standard carry handle to be able to tag along with you wherever you go. The buckwheat hulls are also stored within a liner so you are able to remove or add them so you can reach that perfect firmness.
Customers have found this meditation cushion to be extremely reliable with it working for experienced meditators in 3-hour sittings, people experiencing chronic joint pain, or a parent wanting to sit comfortably on the ground to play with their child.
Some have stated that it collects things like dust and cat hair rather magnetically. The good news is that it brushes off really easily so its not much of a deterrent from the quality people have found in this cushion.
Pros:
Multiple color choices and designs.
Multipurpose by serving as a substitute yoga block during practice.
Unzippable cover for easy washing and additional liner for buckwheat for easy adding/removal.
Cons:
Attracts things like dust and cat hair rather magnetically (wipes off easy)
What Size Cushion Would You Recommend?
The size of a cushion doesn´t necessarily fit the size of the person. Every person has different circumstances and life experience which lead to a different result and different pain points when sitting.
For example, I´ve seen one individual stack one pillow on top of another and use two in this way to achieve their preferred level of comfort. To best serve your question it could serve you to measure around yourself while sitting on the floor with the measuring tape and use that for your dimension as a rough estimate.
For height, try to start with something around 5" unless you can feel that you´re hip would need to be lifted higher off the ground.
Why Are So Many Cushions Made With Buckwheat Hulls?
Buckwheat has rapidly been growing in popularity as a wonderful filling for meditation cushions. This has been happening for a few reasons. The first is that they are easily removable as they are just hulls that can be easily inserted and removed from a pouch.
Additionally, the hulls shape very well to the body. It mimics sitting in a pile of sand at the beach and makes you feel welcomed and well received, as if by the earth. So, naturally, it became a suitable use for meditation cushion on all fronts.
A technical aspect of the hulls that have caused meditators to increase their affections towards it is the fact that it doesn´t flatten or need fluffing up, like a cotton pillow.
Is Hemp More Earth-Friendly Than Cotton?
Organic cotton ranks up in the department of environmentally friendly, just like hemp. This is because industrial cotton is ranking at about 16% of the global environments insecticides release.
Hemp, on the other hand, doesn´t require as many insecticides to grow and of course organic requires no chemical pesticides. It also requires much less water to grow than its cotton counterpart.
So, if you go with organic cotton you are still doing a favor to the environment but hemp certainly wins over cotton on a level field.
What If My Knees Are Hurting From Meditation?
If your knees are hurting make sure you are in proper posture with your feet tucked and your knees forward touching on the ground with your hips back. Personally, I still experience pain this way on my left knee from an old injury.
I found putting knee blocks underneath your knees as they use for yoga, and this helps alleviate the weight that is being positioned on your knees to roll back into your hips. You can also find cushier knee pillows online if the foam for the yoga block is too tough.
Over time you may find you use them occasionally or not at all depending on your personal situation and pain points.
Ready… Set! Sit.
Thatś it. Now that you have a deeper understanding and clarity of how to find the best meditation cushion set that fits your specific needs, you can get the one you´ve been feeling! Soon you will be living in a world of peace as you find yourself free from old aches and pains.
With the understanding of proper posture and how each meditation cushion will affect you differently, you will be able to focus more energy towards your meditation practice. The beautiful practice of meditation does allow you to go anywhere and most cushions you can take with you too!
It is also nice to have your own personal space to serve as your meditation area to remind your mind to calm and rest in this space. Enjoy your practice and be happy!