Humans have been using candles in meditation for centuries, but what exactly makes a set of the best meditation candles? Today I am going to help you find the ideal set of candles that will best serve your style of meditation practice.
Candles provide a great environmental balance to the meditation space as well as aromatherapy benefits. These benefits are also recognized while practicing yoga.
The Importance of the Matter
Ideally, when seeking to purchase candles for meditation or for any other reason it is best to seek out materials that are non-toxic. Candles are commonly made from a toxic chemical called Paraffin which releases harmful carcinogens when burned.
Many candles on the market today are made out of material like beeswax or soy. These friendlier and biodegradable options will give you a safer environment to calmly continue working.
Beeswax also gives you the added benefit of cleaning the air in your space. Beeswax releases negative ions into the air which will attach to positive ions and remove them. Positive ions can contain contaminants like pollutants, toxins, and diseases.
Ultimately, it´s important to try and keep mindful of what you are purchasing and where it came from when you can!
Uses for Meditation Candles
You might be wondering what different uses there are for meditation candles. There was a time when I believed that candles only uses were for light and for warmth. But no more!
As I gained different experiences and information throughout my life I found that there is a fixed gazing technique called Trataka. The practice will help you improve your concentration and has also been said to heal and strengthen the eye.
Another use for meditation candles is that of aromatherapy. Aromatherapy is the holistic approach to healing through the art of pleasant aromas. Essential oils derived from plant materials are generally used in this practice but an aromatic candle would work just as well.
The Candle´s Flame
It´s important to mention to be cautious of the candle´s flame. If you just got your brand new candle and you´re excited to place it in your space, that´s good! I know it must be common sense but be sure to check the surroundings the candle will be inhabiting so that it does not catch fire to anything.
A friend of mine had a beautiful candle that she placed in her space and she was telling me about it. I told her it was wonderful but asked if she should have the scraggly pieces of dry rope hanging from a different ornament directly above it. She laughed and then embarrassingly moved the candle.
Life is constantly happening! Sometimes we overlook things so I am here with a friendly reminder. If you are doing fixed gaze meditation you will want to ensure the candle is not too close. The warmth may seem mellow at first, but overtime it may be uncomfortable and become tough to remain still.
Mixing Your Candles
One thing you might consider is the scents and the number of candles you are going to assemble. The scents can be more exciting than just the initial scent of the candle. If you have a space that looks like it accepts three candles then trust your instinct and get three candles!
You can find all sorts of different ideas of what scents go well together. You can try lavender with a vanilla candle. You can even add a rain scented candle if you can and really feel like you´re settling into an ecstasy of a pleasant rain.
You can even try more fun options like blueberry cobbler mixed with a cake smelling candle to get the smell of a cozy baking day on a Saturday. Some candles come mixed with different herbs to produce different scents already!
Fragrance Layering
If you´re excited about the idea of mixing scents you can always do more research into fragrance layering that will give you ideas and a system for experimenting with scents!
People like to use essential oils for this because they are easy to store and easy to mix. There are ninety types of essential oils that you have to play with!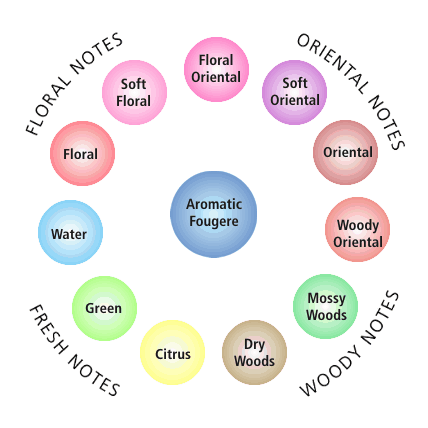 This fragrance wheel was developed by Michael Edwards in 1983. It can help you get started if youŕe lost on where to begin mixing fragrances. You can dig deeper into it but Iĺl start you off with the basics.
First, side by side fragrances will blend nicely together. Second, if the fragrance is directly opposite of another they will compliment well together. And third, generally speaking, selecting three fragrances that form a triangle on the wheel should compliment each other.
The 5 Best Meditation Candles & Our Review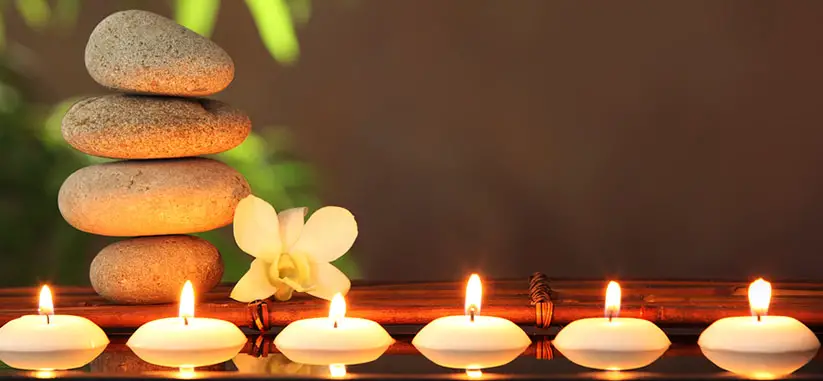 Now that you have a sound understanding of what you´re looking for in a meditation candle we can get take a look at some of the popular candles on the market today! I will show you some non-toxic candles that others have experienced and loved.
First, lets start with a non-toxic but also non-scented option in case you´re looking to focus more on the environmental ambience of your space!
HemingWeigh Himalayan Crystal Salt Rock Tea Light Holder
HemingWeigh´s Crystal Salt Rock Tea Light Holder is unique in the way that the product isn´t actually a candle by itself. The candle holders are made of pure Himalayan salt in Pakistan.
Pure Himalayan salt helps purify and cleanse the air by releasing negative ions in the air to neutralize positive ions. They create ideal conditions for a fixed gaze or closed eye meditation session.
If you decide to get the Tea Light Holder you can get some Tea Light Candles here. This will give you a 12-pack of tea light candles to last you for awhile.
They also make a beautiful accent to the space that you will be using. They come in a pack of two but if you only need one for your practice you can always give the other away as a gift!
If you keep the light dim you will find the flicker of the candle will give you a soothing and welcoming environment. It comes with a money back guarantee as well to make sure you are satisfied.
Some customers have run into an issue where the tea light candles don´t fit into the holder. The salt crystal holders come in all different shapes and sizes on the outside and sometimes the inside can be off measurement as well.
But! Customers have had success with taking a damp washcloth and simply wiping the inside of the holder to dissolve the salt until the candle fits.
Pros:
Purifies the air with negative ions
Beautiful accent and environmental vibe.
Money back guarantee.
Cons:
Holes of the candle holder are sometimes too small for tea light candle (can be fixed with a wet washcloth and then wiping the inside to dissolve salt)
Luxury Scented Soy Jar Candle
The Luxury Scented Soy Jar Candle is made from an eco-conscious manufacturer to deliver quality products without hurting our earth. This candle is made from eco-friendly soy wax and comes in all sorts of different quality scents that you can choose from.
To list a few: Blueberry Cobbler, Pineapple Evergreen, Lemon Biscotti, and Black Amber. This American made candle also has one of the longest lasting wicks on the market so you know you´ll be getting your money´s worth!
Customers have confirmed that the candle has been lasting quite a long time as advertised. It doesn´t give an exact amount but customers report an average of a 60 hour burn time.
Some customers are upset because the candle is smaller than they expected. This could be a deterrent to you as well depending on the environment you´re going for! This candle packs a strong smell and lasts a long time but if you want a giant candle for the environmental effect, you may want to find something else.
It is worth noting that meditation candles tend to be smaller and less intense in their presence, although you can still get large white unscented candles. Smaller candles limit the distraction and the intensity of the flame if you are closing your eyes.
Pros:
Eco-conscious soy wax material
A large variety of scent choices
Long lasting wick (approx. 60 hours)
Cons:
Some customers reported it was smaller than they expected
White Tea Thyme Candle by OneSoul
OneSoul creates the White Tea Thyme Candle by hand pouring the candles in small batches. They use U.S grown soy to create their eco-friendly soy wax blend. The lead-free, cotton-wick gives you an awesome burn time of 80 hours in a convenient little nine-ounce glass jar.
They also have three other scents to choose from! These include Moroccan amber, lavender bergamot, and exotic vanilla. You can simply change the fragrance that you want when you are purchasing.
White Tea Thyme is known to help with feelings of peace and also of focus. It comes with the Om symbol in Hindi. This Om sound represents the sound of the universe. The actual vibration you create when you create this sound is believed to be the sound of creation itself.
The nice addition to buying from OneSoul is that they have a 100% money back guarantee! That´s right. If you buy it, burn it, smell it, and then don´t care much for it? Send it back and get paid back.
Customer´s love all the different scents that are offered with this candle and also are excited about the packaging! Each candle comes with a gift packaging so you can give it as a gift if you choose too.
Pros:
Hand poured with Eco-friendly soy wax blend
80 hour burn time
4 different scent options
Brings about feelings of peace in meditation and a pleasant environment for guests
Gift packaging included
100% money back guarantee
Cons:
There are no major cons of this product at this time
LA JOLIE MUSE Ylang Ylang Aromatherapy Scented Candle
La Jolie Muse Ylang Ylang Aromatherapy Scented Candle is another long-lasting candle giving you an expected 60-80 hours of burn time. It comes in a Champagne porcelain with a design that goes well with a modern style.
This 10 oz candle is manufactured with the same soy wax material. It fills the room with a pleasant blend of jasmine, chamomile, and musk which comes out do a blissful, flowery fragrance.
This meditation candle also comes with a full refund guarantee if you are dissatisfied with the product in any way!
The candle will keep your meditation calm and serene. The flowery fragrance will give the sensation of floating in a bed of flowers and you go deeper within your mind.
It has been shown that the candle porcelain can be scratched rather easily. If you are giving it as a gift try to be conscious of this fact when you are handling the candle and packing it.
Pros:
Long lasting (60-80 hours)
Eco-friendly soy wax material
Money back guarantee
Cons:
Scented Candle Travel / Gift Set
This Scented Candle Set works great as a candle to give as a gift or for use when you are traveling. The set comes in a set of 4 with each candle having its own individual fragrance. One is lavender, then gardenia, and lilac, then finally rose.
This gives you the option to choose an individual fragrance depending on your mood or even mix them by burning them at the same time!
They are sealed in a little tin to make travel easier and each candle will burn for about 20 hours. These candles are made from Eco-friendly soy wax and a lead-free cotton wick while being hand poured into small batches.
Once the candle is used you´ll have the tins left over to re-use if you like. Maybe you can learn how to make soy wax tea light candles? That be a cool way to reuse!
Customers have been enjoying the candles but the power of the smell isn´t strong enough to fill a whole room. This will be fine for you if you are using them in your meditation space, which should have the candles close to you in some way.
Pros:
Set of 4 with 4 individual fragrances (lavender, gardenia, lilac, rose)
Eco-friendly material
Reusable tins
Cons:
Fragrance is not strong enough to fill a room but will serve its purpose in close quarters during meditation
A Fleeting Fragrance
At this point you can now find the best meditation candles for your sacred practice. You have awareness of the different materials that are used in candles so you can avoid ones that are toxic to the environment or yourself. With the candle´s presence and possible scent you will find yourself in a deeper state of peace. A deeper state of tranquility. A deeper state of yourself.
Meditate well, friends.