In the life of meditation, it is always a welcoming feeling when you receive one of the best meditation gifts ever! If you find yourself on the giving end you might find it difficult to find the right meditation gift to give. This is ok! I am here to walk you through the intricacies of finding the perfect meditation gift for your friends and family.
Can´t Choose? Meditate On It.
The first step to finding the best meditation gift in an endless sea of products is to meditate! I have often used meditation as a way to navigate through complicated life events and overwhelming challenges. It is the best way to take a problem and allow your mind to process to present solutions or options and even an answer.
Through adding the Chinese practice of Taoism into my daily life, I have been able to simplify most day to day decisions. You can read more about Taoism but it can be hard to understand the applicable benefit of the practice through these lecturing terms.
I would personally recommend The Tao of Pooh written by Benjamin Hoff. The Tao of Pooh breaks down the Tao into relatable terms and simple understanding. It gave me the perspective of allowing myself to do nothing when a decision or an issue arises and free myself of my mind.
The idea would then return later with new clarity and fresh perspective and a choice is almost always more easily made. So, read the article and check out the products then take a moment to reflect on it. You will find even just a 10-minute practice can bring you new clarity to your choice.
Spend Time With Your Loved Ones
If you really want to connect to your friends and family to find the proper gift, spend time with them! When you spend time or even meditate with them with the intention of finding them a gift you will pick up on minor nuances that you may not have noticed before that can lead you on your search.
If you´re working on encouraging someone close to you to meditate try talking to them again about meditation. If they are resistant to the idea, find out why. Through the different walls that the person gives you, you can gently offer solutions to help climb or break the wall and more easily help them build a scenario that would make them feel more comfortable.
This should give you a better idea of what they are looking for even if they didn´t know it themselves!
To Get The Gears Rolling
Before we talk about the best meditation gifts, what exactly make good meditation gifts? Well, in a very general sense you have meditation cushions, blankets, beads, non-toxic scented candles, and stones.
You could also consider a good meditation book or a Tibetan singing bowl! There are so many different options and it just depends on what you believe your loved one will cherish most.
Break it Down
Meditation cushions help you with your posture and to keep your spine erect. You can check out our article on the best meditation cushions to get more details. Blankets make a wonderful gift as they can become part of someones daily life as well and not just part of meditation.
Stones can be held during meditation that can incite different effects upon the user. There is a large variety of different stones and lists available to assist you in identifying the stone and itś spiritual aspects.
Singing bowls are pleasant for meditators as they are designed to hold a certain vibration depending on the shape of the bowl. Tibetan singing bowls come from the middle east and were commonly used during sound healing and meditation practices. You can experience how a singing bowl sings with the video below:
If you want to get deeper into the best meditation candles as your gift of choice you can check out our best meditation candles article to find a variety of candles that would all make great gifts. Finally, as I said books make great gifts but I would probably read the book first before you give it to someone!
Infuse the Gift with Positive Intentions
Personally, I would recommend this with all things. There is a fine line that blends together the world of spirituality and our perceived reality together. The thoughts we have transformed into actions and this is an expression of energy that is being released out into the universe.
Dr. Masaru Emoto ran an experiment on water and his results were documented that the molecular structure of the water itself had changed. It changed depending on whether the words spoken to the water were harsh or kind.
As we take action and speak words into our world we are affecting our environment around us and causing it to change. Those rippling effects on our environment all start from the seed of the thought. If the thought is positive, it will create more positive.
If you were to tell your friend that you infused it with positive intentions from your heart you might earn a smile. That´s positive!
The Best Meditation Gifts You Can Give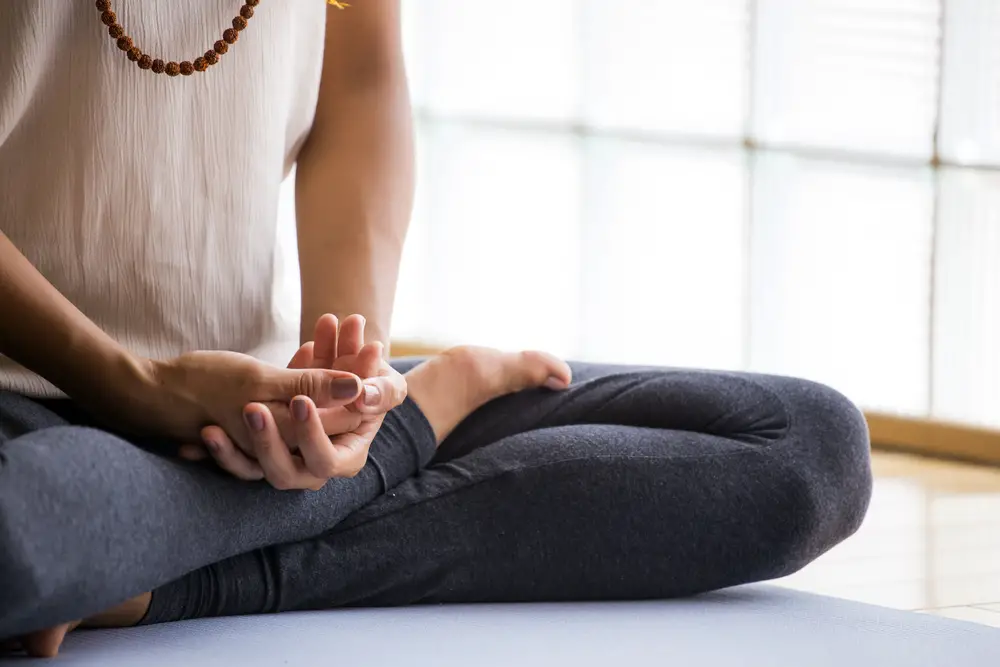 Now we can explore the different variety of gifts that have been exploding with excitement in the marketplace! I will take you through a variety of ideas that all fall under my personal favorites and things that I use at home, too!
YogaAccessories Traditional Mexican Blanket
The YogaAccessories Traditional Mexican Blanket is an exciting blanket that comes in a multitude of colors to choose from. The materials consist of 50% acrylic / 40% polyester / 10% cotton and are even machine washable! The blanket is 74″ x 52¨ weighing in at 2.4 lbs.
Now, I could say I use this one at home but that´s certainly not the only place. This blanket has traveled with me all over the world from California to India to Canada then back again. It is quite the trooper! And it is warm. These traditional blankets are made to keep you cozy and definitely serve for more than a meditation blanket.
For meditation, I find it perfect unless you are in warm environments. You can wrap the blanket all around you like a shawl. I´ve even wrapped the blanket around me leaving some slack and made it into a hood! In my Vipassana retreat in Merritt, Canada it was very chilly at 5 in the morning in the Hall and I found myself comfortably warm within the fibers of this blanket.
My blanket has been with me for almost 5 years now and has honestly been through a war as far as a blanket is concerned and it still holds strong. Customers love this blanket although some have complained that it isn´t thick enough to hold certain advanced meditation postures.
This blanket would make an amazing gift and brings all the cozy loving vibes with it!
Pros:
Variety of Colors
Travel-friendly
Comfortably warm when chilly
Warm and welcoming for meditation
Durable
Cons:
Some customers determine the blanket to be too thin as opposed to what they´re used to for advanced meditation postures.
The Untethered Soul: The Journey Beyond Yourself
The Untethered Soul: The Journey Beyond Yourself is all about mindfulness and unlocking your true potential. It is a New York Times bestseller that gives you guidance and direction on finding your power and freeing yourself.
The book begins by walking you through your relationship with your thoughts and teaches you to analyze and acknowledge these thoughts. It will teach you to delve deep into your mind and find the root area where the thought stems from. The thought that you consciously recognize always comes from somewhere deeply rooted within the subconscious mind.
As you get deeper into the book the author will guide you through the different parables to express to you the connection between yourself and the spiritual world.
The book lacks in giving you any sort of steps to practice meditation or how to get to the points that the book explains. If you or the person you are gifting to is beginning meditation I would recommend The Headspace Guide to Meditation and Mindfulness by Andy Puddicombe. It is also recommended by Bill Gates and is a great guide for a beginner entering into meditation.
Like I was saying before if you choose to get a book make sure you have some time before you give the gift! I mean, you don´t have to but they might ask you what itś about.
Pros:
Takes you through a deep journey through your thoughts and the depths of your mind
Addresses root issues of your life problems
Cons:
No practical steps to follow for meditation
Toysmith Deluxe Zen Garden
The Toysmith Deluxe Zen Garden is a small scale size of the traditional Zen garden which originated during medieval times in Japan. These gardens were known for their simplicity and serenity.
It is a fun gift in regards to meditation because it adds a soothing aspect to the atmosphere. And! It´s interactive! You can use the rakes to calmly make the designs in the sand so that they flow together flawlessly. It´s also a great gift for the office!
The garden itself is held in a 9¨ x 9¨ rosewood table frame so it will fit perfectly on a small table or on your desk. The set itself comes with a long-handled rake, a bamboo rake, and a broom to be able to create patterns and designs in the sand.
It comes with 2 ceramic cranes and some polished stones to add to the atmosphere. I would find it more fun to personalize it with my own stones and maybe a special piece of wood! Aside from that, it comes with a 64-page booklet that gives you ideas on how to design the zen garden.
Customers are saying their zen garden has been relaxing and peaceful and it´s just nice. I would say that´s probably why the zen gardens are still around after so long. Some customers state that this product looks cheap, although one stated they didn´t care that it looked cheap. She said it´s really ok because it technically is a toy and also it relaxes and calms her so it serves its purpose.
So, it´s up to you! But I know any friend of mine would love to get a pretty little red box full of white sand with some stones from my personal collection for a birthday or holiday!
Pros:
Interactive and personalizable
Small enough to fit on most surfaces
Booklet for design ideas
Rakes and decorations included
Cons:
Some customers have said it looks cheap based on their tastes
Buckwheat Meditation Cushion
When it comes to a gift for meditation the Buckwheat Meditation Cushion is going to be the top of my list. A cushion brings so many benefits to someone´s practice. These benefits are things like improved posture through ergonomic design and also raising up the hips so that your knees are touching to the ground to keeping your spine straight.
The cushion is stuffed with buckwheat hulls and has a cover that unzips to wash made of 100% organic cotton. The cushion itself is circular in shape and has dimensions of 5.5¨ high and 15¨ in diameter.
You can get all sorts of different colors and there is also a different style called the crescent shape. This is shaped more like a moon, of sorts, and the cushion wraps more under your thighs which some people prefer. Personally, I prefer the circular shape as it allows me to slide my hips forward slightly to tuck my tailbone and maintain my posture without interrupting my meditation.
Customer´s state that the cushion is sturdy, durable and of top quality. It has served their practice well and this design of cushion has served many meditators well long before them.
Pros:
Proven ergonomic design for improved posture
Washable and unzippable cover
Multiple colors with crescent style option
Cons:
No specific cons for this cushion
Silent Mind Tibetan Singing Bowl Set
Silent Mindś Tibetan Singing Bowl Set comes with everything you need to be able to use the singing bowl. This includes the 4¨ bowl designed with the peace mantra, the leather grip striker to maintain the sound and also a hand-sewn non-dampening pillow. This means you can set the bowl on the pillow and it will still sing the same as if you hold it in your hand.
With its small size, it makes it super travel-friendly and it will also fit in the palm of your hand easily. You can bring it to meditation groups and use it to initiate practice as well! The sound, when used properly, will feel right at home.
These bowls specifically were created by Nepalese artisans and devoted practitioners. Each individual bowl is hand inspected to ensure top quality before it is sent home.
Customers have been loving this singing bowl and it has been awesome quality and a budget price. Some customers have stated that they are having trouble getting it to sing.
One problem with getting a singing bowl as a gift is that there is a small learning curve! It can take a little while to get the hang of how the striker reacts to the bowl but in a short while you and whoever receives your gift will get the hang of it!

Pros:
Comes with the full set: striker/bowl/pillow
Travel-friendly
Each bowl is hand inspected before shipping
Cons:
Has a small learning curve before it can be used properly
What if I am looking for something for my child?
This would be perfect! It depends on what stage you and your child are at with meditation in your own life. With children, there are many ways to enter into a meditative state and the easiest is through music or chanting.
Another option is getting a mandala coloring book. Coloring and drawing are a form of meditation that improves your focus and concentration. The mandala´ś come with intense designs that a child can color and admire for hours.
There are also many good books out there that help with meditating with children! Like the book Calm Kids by Lorraine E Murray. The author details out how to help children relax and remain mindful. It even details out different practices for the different age groups you might be working with.
Another one that parents have had success with is Sitting Still Like a Frog by Eline Snel. This book gives you many practical ideas on how to parent mindfully. It also encourages you as a parent to adopt meditation and mindfulness strongly into your own life first.
Let the Giving Begin!
There you have it! Now you have a deeper understanding and even more clarity on how to prepare and identify the best meditation gifts for your loved ones. I appreciate you taking the time to find something for someone else!
The gift of giving is such a beautiful experience because it feels good to be thought about it and for someone to take action out of their time in their life for you. It feels good for them to make you happy. And so we give. And keep giving. Be happy!