As meditation becomes part of your daily life you may find yourself in need of the best meditation chairs you can find for your practice! Practicing meditation daily will bring you a special type of calm into your life. Being calm is a superpower! Having a dedicated space and chair for your practice will really aid in fine-tuning your focus and consistency while improving your comfort. So sit down and be still while I help you find the meditation chair that you need!
Benefits of a Meditation Chair
Sitting on the floor and attempting to keep your back straight while simultaneously attempting to enter into the manifolds of your own mind can be quite a trying process. A meditation chair comes in and relieves your body of any physical exertion so that you can turn your focus inwards towards your mind and spirit.
While limiting your external distractions, meditation chairs are also designed to be ergonomically functional. This means that the way you naturally sit in the chair is designed to align your body and all of its elements into the most natural position for your body. There are meditation chairs with additional back support if you have more back specific related issues while meditating.
Another, less obvious, benefit of a meditation chair is the mental reminder your chair creates for you when you see it. It creates a space of dedicated practice and if you can meditate at the same time every day it will strengthen your relationship with your spirit even more. When you meditate the same time every day from 5 p.m. to 6 p.m. (or whatever time) in the same spot there starts to become something eternal about it. Something special to it.
Extending your Meditation
One of the primary aspects of your meditation practice that you will always be working on is extending your meditation. When beginning in meditation, 20-40 minutes is common for being the maximum length someone can sit still in one position.
Even with the strongest of determination, after the muscles become weak they will give out. Having a meditation chair with lumbar support and spinal alignment will help you in extending your meditation by removing this issue. The first 20 minutes will become a relaxing experience as opposed to a struggle.
If you are beginning or even established in your meditation it is important not to struggle or try and force the extension of your practice. This is why a meditation chair is such a beautiful addition because you gain the benefits of extending your meditation without having to do anything more yourself other than to purchase and place the chair.
Different Options to Sit On
As you might imagine, there are many different types of seats you can acquire to aid in your meditation practice. Some people prefer to use a simple meditation cushion to sit on that makes traveling easy. Other´s even prefer the kneeling position of a seiza bench to meditate on. The kneeling position is a very powerful posture for me, while I find the lotus pose to be rather calming and serene.
Some different seiza benches are portable as well so you can fold them up and fit them if a suitcase for a travel-friendly option. Some people go for maximum comfort and will use a full-sized, regular chair. Going this route is going to sacrifice the ergonomic posture of specific meditation chairs and isn´t generally recommended if you can avoid it.
Using Your Meditation Chair
It´s good to understand that you can sit in any position that is comfortable for you. You can check out our Beginner´s Meditation Handbook to get guidance on beginning your meditation practice while avoiding common pitfalls for beginners. The meditation chairs recommended here will be designed to provide ergonomic and lumbar support to your spine.
In the beginning, sitting ergonomically correct can be tiring as you begin building the strength in new muscles. If you find yourself being averse to doing practice because you are tired of the chair then I would recommend doing a meditation lying down or following a guided meditation while just sitting comfortably.
It is usually best to find an alternative that works rather than to skip practice altogether, in my experience. It is sometimes nice to follow relaxing guided meditations that guide you through your meditation practice, like this one:
The Best Meditation Chairs!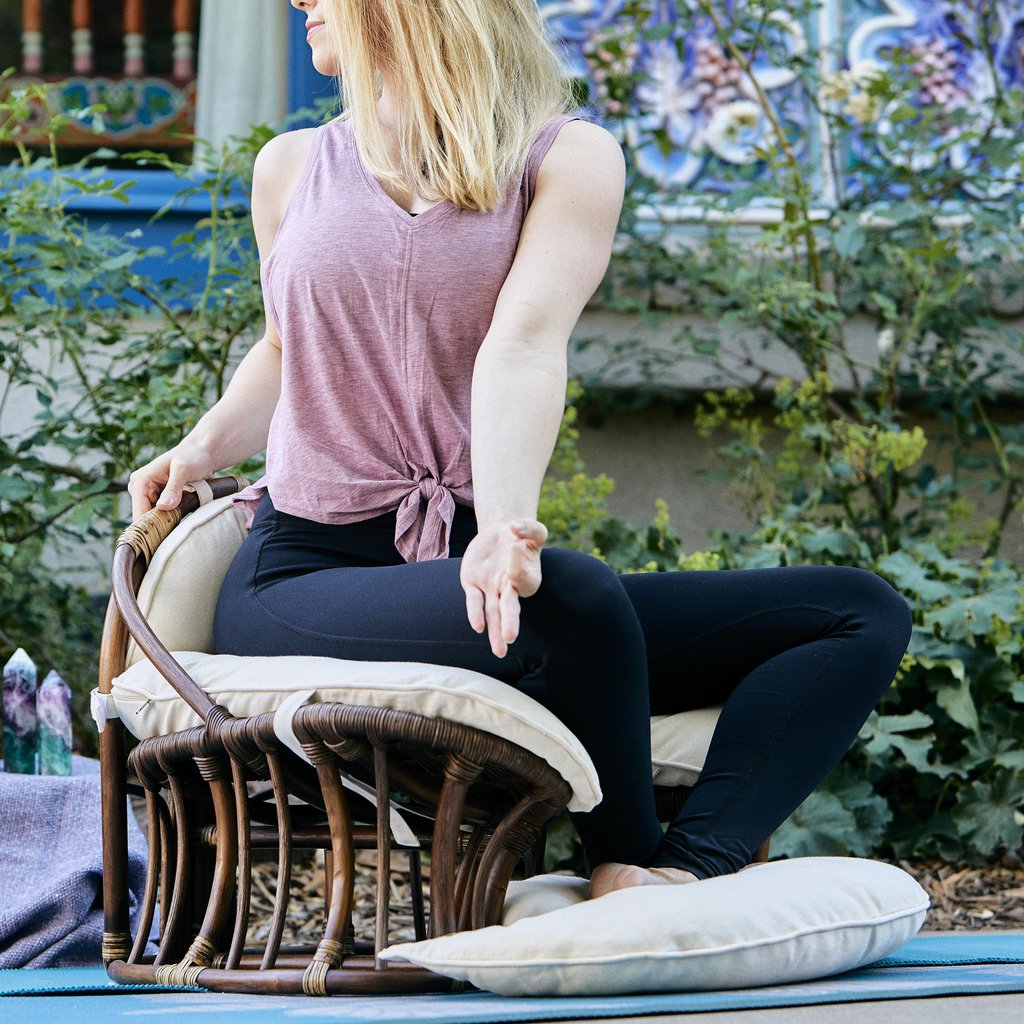 Now we are going to talk about the best meditation chairs that we´ve found! All of these chairs are designed with ergonomic support and comfort in mind. This way you can be sure you are finding the chair that will fit your individual needs!
Original Blackjack Floor Chair (XL)
The Original Blackjack Floor Chair is a portable meditation chair that comes in a variety of different colors. The chair is very lightweight at 5 lbs and has a backrest that comes up providing ergonomic support and lumbar support. It is a cloth chair with a cotton foam pad that has steel aluminum poles coming up to form the frame of the back support. The dimensions are 24 x 16 x 23 in.
The chair can also be used for relaxation and just having a comfortable place to sit! The back piece adjusts into a reclining position so you can be comfortable on the floor even when you´re not meditating. The chair itself is made out of cotton and this durable ¨go-anywhere¨ chair can endure sports events and camping.
Larger people have been using this chair and say that the cushion doesn´t go flat, which they were concerned about before purchasing. The chairs are also great for events and if you are sitting on the ground they sit low enough to not block the view of people behind you. If you do take these chairs outside make sure to use a towel or blanket underneath it to protect the cloth underside!
Customer´s using this for meditation have been having good experiences stating they no longer think about their back during their practice. This is also a great chair if you are on a budget!
One problem customers have been experiencing with this chair is that the aluminum frame poles will sometimes come undone from each other. One customer had the steel pole poke a hole through the cloth where it came undone. It´s not a super common issue with the chair, but something to be aware of!
Pros:
Portable, lightweight, travel-friendly – the ¨go-anywhere¨ chair
Variety of colors
Multipurpose (relax or meditation) with reclining posture or 90° angle
Helps extend your meditation
Budget-friendly
Cons:
Some customers have had issues with the aluminum steel poles becoming detached and poking a hole through the cloth of the chair
Alexia Meditation Seat
The Alexia Meditation Seat is designed to have support spots for all the different spots of your body. These include your posterior, feet, knees, and your lower back column. It weighs approximately 15 pounds with cushioning that is made of foam. The seat supports your weight with a metallic steel frame that is woven within the cushion to create the ergonomic design.
It has a removable cloth cover that is washable but recommended to be dry cleaned. The chair also has a multitude of different color options! Underneath the cover, the chair itself is made of leather or ¨vegan¨ leather (polyurethane) with the steel frame and foam cushion inside. It is easy to clean the leather by just simply wiping it, but make sure you use leather only products!
The chair is light enough to be able to take with on a road trip but can be a bit too much to take with on an airplane without the chair having its own suitcase. People are stating they can meditate for hours in this seat after they get used to sitting in the cross-legged position.
It can be off-putting for some meditators to have their knees sit level with their hips during meditation as well, so be sure to keep that in mind. It is said that you should keep your knees below your hips during meditation to improve blood flow and reduce constriction in your posterior area.
Pros:
Ergonomic design with multiple support spots: lower back, posterior, legs, feet
Washable cloth cover – Dry clean if possible
Lightweight enough to take in a car
Has been reported to help with extending meditation practice
Cons:
Wouldn´t travel well on an airplane without its own suitcase
Remember to use leather-only products for cleaning!
Keeps knees at the same level as hips as opposed to below
Gaiam Rattan Meditation Chair
Gaiam´s Rattan Meditation Chair is a beautiful chair made of rattan wood, which comes from the wood of a variety of palm trees, and has a thick, natural cushion that is stuffed with sustainably sourced kapok. The Kapok tree is a tree native to Mexico, Central America and the Caribbean. They produce giant seed pods that produce a silky, soft fiber similar to cotton and wool.
It comes with ergonomic support for your back and is specifically designed for you to sit cross-legged in meditation for hours in perfect comfort. The cover of the cushion is removable and easily washed in your washing machine. It sits you about 8¨ off the ground and has a weight capacity of 250 lbs.
I wouldn´t recommend using this chair outdoors and with its size, it won´t travel very well at all unless your moving permanently and have a U-haul. Customers love this chair in their homes, though, and have loved it for meditating along with the calming, aesthetic beauty that the chair brings to the atmosphere.
Pros:
Naturally made of Rattan wood and sustainably sourced Kapok to fill the cushion
Ergonomic back-support and designed for cross-legged meditation
Cushion cover is removable and washable
Cons:
Too big to travel easily
Too delicate for outdoor/camping use
Office Star Ergonomically Designed Knee Chair
The Office Star Ergonomically Designed Knee Chair is a chair that takes you a little different direction when it comes to meditation chairs. It was designed for sitting in the office in an ergonomically correct position while still being productive. It has a memory foam seat for maximum comfort and to retain its shape without flattening on you.
The chair is easy to assemble, but to travel with you would have to disassemble all the parts!
The neat thing about this design is that it functions like a seiza bench but in the form of a chair. This means that you can meditate in the kneeling position but still be off the ground so you don´t have the pressure of the ground digging into your ankles and knees.
This option is great if you experience chronic pain in the back, neck, legs, or hip areas as the ergonomic design of the chair will remove a lot of the strain you experience from sitting on the ground.
The seat is also adjustable but it only has a single pivot point which means the whole chair adjusts when you make an adjustment. This can make it difficult to get the perfect angle and position for the chair for your individual body type. If you use the chair for regular sitting as well you can still sit in this chair with your legs outstretched, just so you know.
Pros:
Allows you to meditate in kneeling position without being constricted to the ground
Memory foam cushion pad
Ergonomically designed
Cons:
Can be difficult to adjust
Would need to be disassembled to travel
Xotic Brands Seagrass Meditation Yoga Chair
Xotic Brands Seagrass Meditation Yoga Chair is a chair made of woven banana leaf and mango wood that is ecologically sourced. The cushion is cotton that is stuffed with the silky, smooth, and sustainably-sourced Kapok filling. It has a cushion that sits you 8¨ off the ground and the chair is designed with back support with another cushion to support.
This chair weighs about 25 lbs and would definitely be a more permanent fixture in your home. Traveling with such a weight would be rather difficult and not really worth it or practical. It is also not recommended to use this chair outside as the elements can wear on the wood over time. The cushions have covers, though, that you can remove and wash so it is easy to clean.
The seat of the chair is curved downwards to provide additional support for your knees and feet while you sit and customers have found the chair to be ultra stable. Customers have loved this chair and even sometimes remove the back cushion and just meditate against the Rattan back support and find it quite comfortable.
Removing this back cushion also gives you more room on the seat, if you prefer it!
Pros:
Ecologically/sustainably sourced materials
Removable and machine-washable cushion covers
Designed for maximum comfort and support
Sturdy and roomy
Cons:
Does not travel well
Not an outdoor chair
Is Poor Posture Really a Big Deal?
People will often ask if having bad posture is really a problem or not. It is definitely important to maintain proper posture, especially if you are going to be meditating every day. You may not notice any detrimental effects right away but over time the poor posture will start to have negative effects on your body.
This can include physical things like soreness and pain in your back and other joints. It can also constrict your blood circulation and cause issues with digestions because everything is not flowing properly. Also, holding your head high and your shoulders back with a straight back puts off the energy of confidence and action which will attract people vibrating at that higher level towards you.
This is why it´s so important and worth it to invest in a meditation chair that is designed to keep your spine straight and your body positioned ergonomically. It takes the stress off of yourself of having to condition your body to hold itself properly and doesn´t allow you to simply give up on your posture.
Getting Your Sit Together
Now that you have a clear understanding of what the best meditation chairs are and how to use them you are now well prepared to move forward! When you get the chair and put it in your dedicated space you will find yourself entering into your meditation practice more routinely, more consistently. With sitting properly and comfortably youĺl find yourself diving deeper into your meditation practice as your sessions increase to 45 minutes, to an hour, to two hours.
We will only move forward from here. Meditate well, my friends.