If you´ve been meditating in your home you may be looking for the best seiza bench you can find to add to your meditation practice. If you are unfamiliar, a seiza bench is a small meditation bench that allows you to sit more comfortably in a kneeling position. I will help guide you through selecting the best seiza bench for your individual needs!
A Bench or a Cushion
If you´re looking for a meditation seat then you may have come across cushions as well. If you need a cushion you can consider these awesome meditation cushions or if you need back support check out these meditation chairs with back support.
You can compare the benefits of a cushion vs a bench to find out which one best suits your needs. When doing my 10-day Vipassana meditation course I found myself alternating between a particular I-style seiza bench and a zafu meditation cushion, which is your standard circular meditation cushion.
My experience
In my case, I thought that the bench would not work because I have an injury in my left knee that already gives me pain in a half-lotus position. To my surprise, the kneeling position of the seiza bench relieved pressure in different spots when compared to the zafu cushion.
Using a seiza bench I was able to begin breaking old records on my meditation times but soon found new pain points and switched back to the zafu. Over the course of the 10 days, I continued this back and forth between the two meditation seats.
By the end of the 10 days, I found myself personally more comfortable with the cushion but had reached a session of 2 hours and 45 minutes of meditation when before I couldn´t break 20 minutes. So, now I keep both at home. It´s a pleasure to alternate because it almost adds something of an excitement to your practice.
Ah, I getta use my wooden bench today. Yeah!
Using A Seiza Bench
If you´ve never used one before it can be a little confusing to look at the wooden bench and be able to figure out how in the world you´ŕe going to get comfortable on this thing. Using the bench wrong can result in unnecessary pain and pressure in the legs and knees and also won´t keep your back in proper alignment.
The easiest way to begin using the seiza bench is to simply kneel down. Once you are kneeling you can lift your back end up off your feet and slide the bench underneath so you can sit back comfortably on it.
You should find that sitting this way and keeping your posture proper will keep your back amazingly straight. I would recommend having some sort of cushion or foam underneath your legs so they´re not pressing against the hard floor. You can check out how to use seiza benches for a more detailed explanation or watch this video!
Traveling Capacity
Make sure you consider the traveling capacity of the bench if youŕe a nomad! Obviously, a full-sized seiza bench will be difficult to travel with, especially on an airplane. There are options of portable and folding seiza benches though. These make it much easier to travel around with when they fold up!
Some benches are designed to take up minimal space in a carry-on so you don´t have to sacrifice your usual traveling accessories to fit it. A folding bench does have more ¨folding¨ pieces as you can imagine so it does create a bit of instability.
So, if you plan on keeping the bench at home it might be best to get a non-folding bench.
Different Styles
As you begin looking at different seiza benches you are probably finding that there are a few different styles. Some have the legs near the outside while some have them more near the center. Some have a flat top and some have tops that are curved. Why is this?
These two designs have their own names, too. The legs being on the outside with the flat top is considered the ¨I-style" and the curved top with the legs on the inside is the ¨Pi-style¨. The Pi-style bench is more suitable towards taller meditators as it allows you to place your legs on the outside of the bench legs.
The I-style design can still work for you if you are taller but you may find yourself feeling a little squished within the confines of the bench!
Adjustability
Another consideration to keep in mind is the adjustability of the product. Having the ability to adjust the legs to your personal body type will obviously make things more comfortable but also allow the possibility of guests being able to use your bench effectively as well.
Most seiza benches that are adjustable will be adjustable on the feet so you can adjust it taller or higher for your convenience.
What You´re Here For – The Best Seiza Bench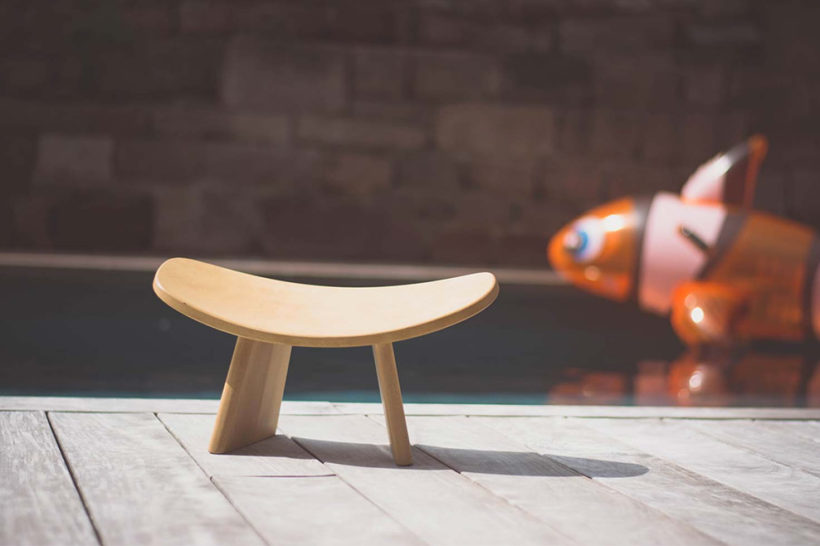 Now that you have an idea of what you need and how to most effectively use it we can start looking at benches! I´ll run you through each of our favorite benches and their benefits and what to watch out for.
Meditation Bench – Acacia Wood
This Meditation Bench of Acacia Wood is an I-style seiza bench that is made from sustainably grown Acacia wood. It comes with a cushion that fits the seat for added comfort. This is nice as I would always add a small pillow to the seat of this type of bench because the wood starts to feel like a javelin after anything longer than an hour.
This bench is best suited for meditators up to heights of 5´11¨, but I have personally had great success with the style of this bench with a height of 6´1″ meditating for sessions of 1.5 hours or longer. However, I would start with a Pi-style bench if you are over 6 feet tall. The bench itself is 18″ in length and 5¨ wide.
The legs of the bench are rounded and angled which allow you to posture yourself properly by rocking slightly when sitting on the bench and obtain a comfortable height of your hips. This bench is non-foldable so you know it will be durable and sturdy but it may not travel as easily.
One customer used this bench to help his meditation sessions due to pain in his knees from fibromyalgia. He found that the bench made it painless and comfortable and it´s also nice how the bench instantly aligns your spine when you sit down.
Some customers have had issues with the bottoms being rounded because it slides out. This is fixed if you have it on carpet or on a cushion beneath you. Also, the rounded legs may feel like it´s unstable but if you are sitting in a proper position the bench will lock and hold you perfectly stable.
Pros:
Made from sustainably grown and sourced Acacia wood
Angled/rounded legs to allow you to adjust to the height that is most comfortable for you
Best for meditators up to 5′ 11″ tall
Added sturdiness due to non-folding
Cons:
Doesn´t travel very easily – Non-folding
Bottom of bench tends to slide on a smooth surface and may require a blanket or cushion beneath it depending on your environment
Wooden Kneeling Ergonomic Meditation Bench by Bluecony Original
The Wooden Kneeling Ergonomic Meditation Bench by Bluecony Original is a travel-sized Pi-style seiza bench. This bench was designed by ergonomic specialists to ensure that your meditation practice is softer and easier on your body. The Pi-style is designed for people over 6 feet and if that is you, then you may find yourself most comfortable with this bench.
The bench itself can be dismantled where you can detach the feet from the bench and place it in the cotton bag that it comes with. Then you are able to take it anywhere with you easily!
Many customers have been excited about how comfortable this bench is as well. Some customers have stated they need a pillow on the bench because it doesn´t come with any cushion. I would recommend a small pillow! But you can find a cushion that covers the seat of the bench, too, if you wish.
Most customers have experienced extended meditation sessions on this bench and people that are larger in size (6´2¨+ / 200+ lbs) have reported being able to use this meditation bench with success.
Pros:
Travel-friendly – Dismantles!
Comes with cotton travel bag included
Designed by ergonomic specialists to automatically align your spine
Has had success with larger people, taller than 6′ and 200+ lbs
Cons:
May require additional cushion – No cushion included
Bean Products Bamboo Meditation Bench
The Bean Products Bamboo Meditation Bench is an I-style ergonomically designed meditation bench. The legs have extra tight hinges on them so that you can fold the legs in and take the bench with you anywhere that you go.
The bench is 19.5¨ in length by 7.5¨ wide by 7¨ tall. It is larger than most seiza benches for that additional support and comfort. They also offer a zabuton which is a large square cushion underneath the bench that you can purchase for an additional cost.
The manufacturer uses sustainably grown fast-growing bamboo to make the bench. They use an Eco-friendly finish that preserves the bamboo for long after you make your purchase. And the hinges are even rust proof!
The feet also have the curved feet that allow for a small rocking motion of the bench so that your pelvis and spine are able to align perfectly. People under 6 feet tall have been having success in having longer sits with this bench (2.5 hours) but one common complaint is that the folding legs don´t lock when they come out.
This means you will want to make sure the legs are out all the way if you are unfolding it to meditate on. Otherwise, you may find your bench folding into itself and into your legs! Ow.
Pros:
Foldable and travel-friendly
Larger bench seat for added support/comfort
Made with sustainably grown bamboo and Eco-friendly finish and rust-proof hinges
Curved feet so that the bench can rock slightly for perfect pelvis and spine alignment
Cons:
No included cushion
Legs have trouble unhinging all the way so you need to be vigilant to ensure they are folded all the way out before meditating
Japanese Rattan Proper Sitting Seiza Chair
The Japanese Rattan Proper Sitting Seiza Chair is one of the many styles of ground chairs that are common in Japan. This chair is styled after that of a seiza bench that allows the user to sit in the traditional kneeling position comfortably.
It is also hand-crafted in Japan and made of Rattan, which is one of 600 species of palms and fronds that exist in Japan making it sourced naturally. The chair is 16¨ length by 11¨ in width by 5.1¨ in height which makes it rather small, like a stool.
Customers have been enjoying this chair and have exclaimed positive comments about its aesthetic look as well as it´s sturdiness. One larger individual said his chair bent in half on him, though, and he´s 6 feet tall and 200 lbs. So, if you are larger than that you may not be able to work with this chair because the material may not be strong enough to support you.
Pros:
Made of naturally sourced Rattan in Japan
Hand-crafted
Sturdy
Cons:
People over 200 lbs have reported breaking this chair
Still Sitting Nomad Meditation Bench
The Still Sitting Nomad Meditation Bench was designed with travel in mind. It has a simple cloth sling that holds you sitting and the legs of the bench come down together in a criss-cross almost like a Pi-style bench. The bench folds easily and is lightweight to make traveling with this bench super easy.
You can adjust the height on this bench with the velcro straps that attach to the cloth to the legs so you don´t have to worry about having an extra cushion for this one. It´s also a very sturdy seat with one customer reporting that he weighs 245 lbs and he is able to use the seat perfectly.
Beginning meditators have also stated that it is really comfortable with the cloth sling seat being more comfortable than that of a wooden bench. The bench does also tip slightly forward to give you the standard ¨rocking¨ of seiza benches so you can maintain perfect alignment.
The only downside is for people that are over 6 feet tall. Some customers have found that it doesn´t adjust high enough for them to be fully comfortable in their kneeling position. They say it hasn´t deterred them from the product, but it is still something to think about.
Pros:
Foldable and lightweight making it super travel-friendly
Adjustable Height
Cloth sling for the seat – no extra cushion needed
Sturdy and durable
Cons:
Customers over 6 feet tall would like it to be a little bit taller to be truly comfortable
On Your Path
You are now well on your way to having the best seiza bench you could have for yourself. You understand if you want to focus more on a sturdy, durable bench that stays at home or a portable, travel-friendly bench that you can bring around with you.
It´s important to note if adjustments are available and also if you feel you´ll need an extra cushion for the bench! At this point, you understand how to use a seiza bench and that you would prefer to have a seiza bench over a zafu cushion.
You are also familiar with the different I-style and Pi-style meditation benches and how each one will work differently for you based on your height. Now! Time to get the bench! Enjoy your new bench. Be happy!