When it comes to your comfort in meditation finding a shawl that you would call the best meditation shawl should be a flowing and joyful experience. You are finding an item that will accompany you on your journey to enlightenment! You will find your shawl accompanying you in daily life even outside of your meditation. As I take you through these awesome meditation shawls I will help you identify what to look for in a shawl to make sure you are cozy and calm during every meditation session.
The Material of Your Shawl
It´s important to consider the materials that created your shawl when you are looking to find a meditation shawl. There is a slew of different synthetic materials that can be used to create cloth fibers, like polyester. Polyester is a fiber that is created from the residue film of petroleum which is a process that is emitting carbon into our atmosphere and coming from a non-renewable resource.
Sometimes there is a material called viscose, also called Rayon, that is used. Viscose is created by weaving together fibers of cellulose extracted from plants. The process to create viscose creates a toxic byproduct but as long as it is disposed of properly there is really no readily apparent harm from creating this fiber.
All the shawls I will be reviewing with you today will be made of natural materials or the plant-based viscose that will be friendly to your skin. And the environment! These will include materials like yak wool, goat wool (pashmina), silk, or cotton.
Using Your Meditation Shawl
A meditation shawl is not quite as necessary as a meditation cushion or meditation chair, but it adds a very comforting, cozy and personal experience to your meditation. When you sit down for meditation you can basically wrap the shawl around you in any way you wish. There is not a ¨right¨ way to wrap your shawl around you so if you just feel it out I am positive you will find a method that works great for you.
If you are using your shawl outside of meditation you may be looking to wear the shawl in a stylish way. There are many different methods you can utilize to wear your shawl stylishly. It only matters how you fold the shawl. You can check out this video to watch different ways of how to wear your shawl with a little bit of fashion:
Taking Care of Your Shawl
It is important to know how to properly care for your shawl when you have a product made of wool or silk. You will want to follow proper procedures while washing it to ensure you don´t ruin it. You can also use different herb combinations to keep it smelling fresh and natural and even repel moths!
Washing Your Shawl
Personally, I´m terrible at laundry. I´ll put a yellow, red and green shirt in with a white shirt and be happy with my new tie-dye experiment that happened on accident. But! That´s why I thought it would be worth mentioning if your shawl is machine washable or not.
Since the shawls that you find here will be made of some variety of wool, silk, or viscose you won´t want to put it in the dryer. All of these materials are safe to put in your washing machine but they aren´t dryer compatible.
When you do wash your shawl make sure the water is on cold and then hang it up to dry! Or you can simply hand wash it which will be even gentler. When you hand wash your shawl, make sure you gently squeeze out the excess water before you hang it or lie it flat to dry. Do not twist the shall, though, just gently squeeze it so you don´t ruin the shape of your shawl.
If you iron your shawl make sure the iron is on its lowest temperature.
Dry cleaning is definitely an option for your shawl but I personally wouldn´t recommend it. The process of dry cleaning involves the clothing being soaked in the chemical perchloroethylene. This chemical has been under scrutiny by the general public and health community and has been linked to different health problems.
Herb Sachet Bag
A sachet bag is simply a small bag that is used to hold herbs which will then scent your clothing when you store the bag in your dresser. You can combine different numbers of herbs to create the desired effect. In the matter of your shawl, we are essentially designing an herb sachet to repel moths.
Herbs that have been known to repel moths include:
Lavender
Cedar
Rosemary
Mint (also good for keeping mice out of the house)
Thyme
Cinnamon
Southernwood
Cloves
You can simply crush the herbs into a bag and place them with your shawl to keep the shawl smelling great and the moths away. You don´t have to mix all of them if you don´t have them all, any combination of these herbs will do. If you want, you can follow this recipe below to create a basic herb sachet (you can increase or decrease the amounts within the ratio as you wish).
Natural Moth-Repelling Sachet:
1 ounce each of dried rosemary, mint, and lavender.
.5 ounce of dried thyme
4 ounces of whole cloves
The Best Meditation Shawls!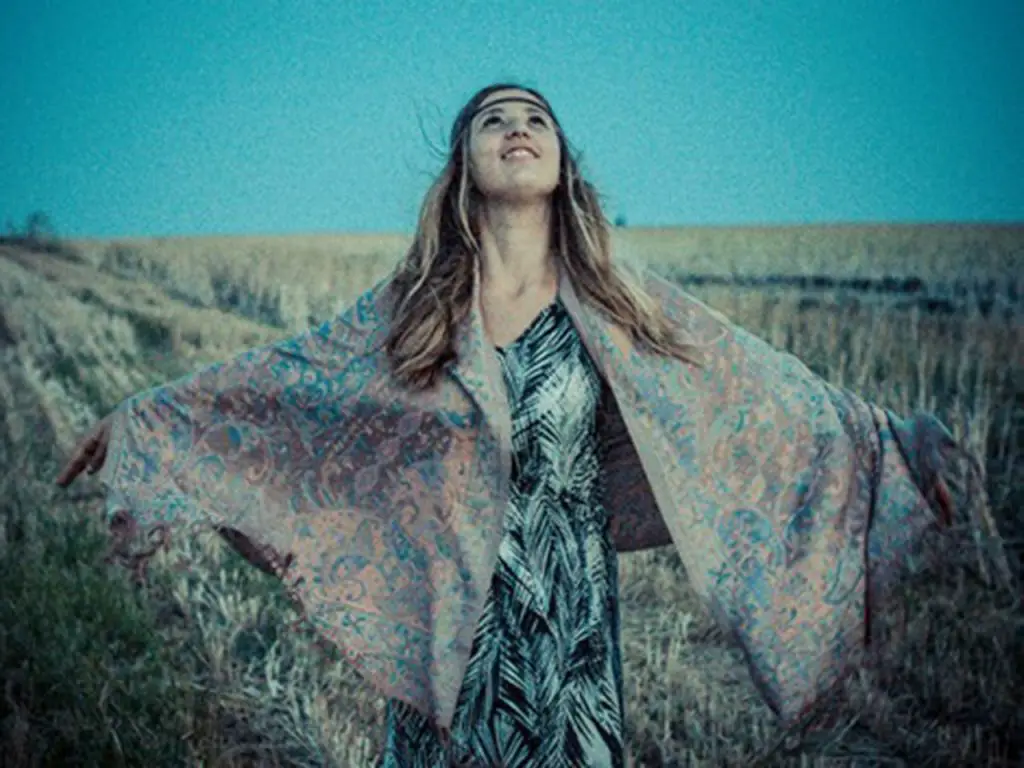 Here we are going to take a look at the best meditation shawls available that are made from natural materials. I try to be conscious of my individual consumption and personally prefer the feel of a product, especially cloth, that is naturally made.
All of these options here strive to be absent of certain synthetic materials that are being created from our non-renewable resources. These are all derived from some type of animal´s wool or silk or the semi-synthetic fiber viscose that is derived from plant cellulose.
Paskmlna Double-Layered Reversible Pashmina Shawl
Paskmlna´s Double-Layered and Reversible Pashmina Shawl is a double layered shawl with dimensions of 28¨ W x 70¨ L. This double layer doesn´t make it extra thick though! It is still relatively light. The shawl has a border pattern with the tassles or fringe on the end that you find on meditation shawls and blankets.
The manufacturer recommends to hand wash this shawl and not even put it through your washing machine. The shawl is made of 55% pashmina, which is goat´s wool, and 45% silk and it´s super cozy. As it says in the name it is also reversible so you can wear the shawl either way and the pattern still flows properly.
This shawl has a silky smooth feeling to the touch it and it is wavy and light like you would expect from silk cloth. The double layer makes it thicker, but not like thick like a wool shawl. It washes well and retains its color after drying well too. If a silky, smooth shawl is what you´re looking for, this may be your shawl!
The only downside customers have found is that the shawl does snag pretty easily. If you aren´t conscious of your shawl it may end up tearing itself apart as you galavant through life. So if you take this shawl around daily with you try and be extra conscious of it.
It is a great budget-friendly option, though. Also, the pashmina is possibly supplemented with a synthetic fiber due to the cost. Goat wool from India is generally really expensive. So keep that in mind!
Pros:
Reversible
Silky, smooth feeling
Budget-friendly
Cons:
Snags easily
Pashmina possibly composed of partially synthetic materials
Falari´s Woven Paisley Pashmina Shawl
Falari´s Woven Paisley Pashmina Shawl is also a shawl comprised of 55% pashmina and 45% silk. The shawl is about 27 ¨ wide and 72¨ inches in lengths with tassels on the end. Again, because of the materials, it´s recommended to hand wash this shawl and wash it individually if you can.
It´s important to know that this shawl is rather light because of the silk and you will wear it more for feel and comfort rather than for warmth. Customers have been happy with the deep rich colors of the shawl and have been happy with the quality of the cloth as well.
Some customers have even purchased multiple of this shawl with one person even managing to buy two and sew them into a beautiful kimono. It is another budget-friendly option but consists of the same pashmina that may be comprised of synthetic threads.
Pros:
Silky, smooth feeling
Budget-friendly
Cons
Pashmina possibly composed of partially synthetic materials
Cashmere Feel Warm 2 Tone Shawl
The Cashmere Feel Warm 2 Tone Shawl is a reversible shawl with contrasting tones. One tone is on one side with the other tone on the reverse side. This is a great breathable shawl and will do well keeping you warm in chilly environments.
This shawl is recommended to be hand washed only and remember don´t twist or pull it to get the excess water out! Just gently squeeze the shawl and then lie it out flat or hang it up to dry. It is shipped in a plastic bag and a 2nd zippered case for extra safety and makes a great gift if you are looking for a meditation gift.
This shawl is comprised of 30% cotton and 70% viscose. This combination of cotton and viscose gives you a very soft cashmere feel with the shawl which is why it´s named ¨Cashmere Feel¨. The dimensions are 74¨ long without the fringe and 30¨ wide.
Some customers have had an issue with the dye bleeding after they handwash the shawl. So be careful! When you do handwash your shawl make sure you wash it individually and that it is fully dry before you wear it.
Pros:
Reversible with contrasting tones
Soft, warm cashmere feel (30% cotton/70% viscose)
Cons:
Some customers have experienced the dye bleeding after washing the shawl
La Purse Pashmina Shawls
La Purse´s Pashmina Shawls has a variety of colors with 130 different solid color options to choose from. The shawl is made from 100% viscose and has a total length of 79¨ with the fringes included and 29¨ of width. These shawls are made specifically by La Purse for top quality and are a great accessory for everyday use.
Also, if you order before 4 PM Pacific Standard Time it will ship to you the same business day! The manufacturer also recommends to hand-wash this item when cleaning and definitely do not throw it in your dryer! The shawl itself is just super soft, silky feeling and warm.
Customers have found that the shawl is warm enough to thwart off a chill but also light enough to wear when it´s warmer out. Some customers have had trouble finding the proper color that they are looking for. This particular shawl has been hard for customers to choose a color and then receive a shawl with the coloration of exactly what they´re looking for due to the huge amount of options.
The good news is that the customer service from La Purse is phenomenal and if you´re not happy with your choice they will help you until you are happy!
Pros:
130 different solid color options
Ships same business day
Hand-washable
Soft, warm, and silky feel
Cons:
Hard to find the exact color you are looking for due to so many options
Tibetan Meditation Shawl by Virtuous Ocean
Virtuous Ocean´s Tibetan Meditation Shawl is hands down my favorite shawl and the one that I use in my day to day life and also in meditation. It is so soft and warm and just keeps you feeling cozy and secure all day. The shawl is made 100% from yak wool and I have used this during chillier days to keep absolutely warm.
The shawl is lightweight and soft with dimensions of 36¨ W x 78¨ W with fringes. It is machine washable with the water on cold but make sure you hang it to dry! It is still better to hand-wash the shawl if you´d prefer.
The shawl itself doesn´t have any itchiness with it either. With it being wool you might think of this big, uncomfortable sheep wool sweaters but this shawl is actually very soft to the touch and with no scratchiness.
Pros:
100% yak wool – warm and soft
Machine washable on cold – hang to dry!
No itchy/scratchy feeling
Cons:
No particular cons of this product at this time
A Final Word
I´ll leave you here at the end of the path with everything you need to find the best meditation shawl that you can! Now you know what to look for in a shawl as far as what it is made of and also how to use the shawl properly. You also understand how to take care of your shawl to make sure that your special cloth will last you for years to come. Enjoy your new shawl and be happy!